St Teilo's Church
Who was Teilo?
Born in Pembrokeshire around 480AD, Teilo was one of the so-called 'Welsh Saints', living at the time of Padarn and Dewi (or David).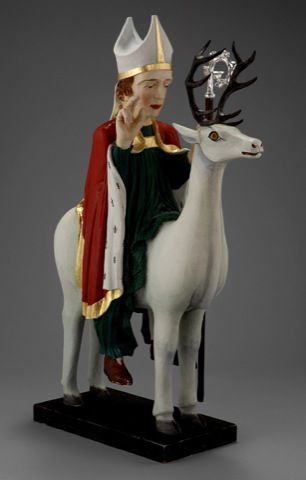 The story of Teilo has been incorporated into a five metre long carved 'vine trail' along the front of the rood loft. It took our Head Carpenter three months to design and carve it out of Welsh oak. Later, it was carefully decorated using gold and silver leaf.
See the carving and story here.
Teilo was a very popular saint – and by medieval times, there were over thirty churches and villages dedicated to him across Wales and Britanny.
The Church of St Teilo at St Fagans National History Museum came from Llandeilo Talybont; now part of Pontarddulais, near Swansea. Here at the museum, we still celebrate St Teilo's day every February with worshippers from Pontarddulais.
We can't be sure whether Teilo himself visited the church during his lifetime. We did find evidence, though, that Christians had been worshipping on the church site long before the present building was there.
A carved stone was found when we moved the church – it was hidden inside one of the walls. Experts date the carving – of a cross on a shield – as being from the 7 – 9 centuries C.E. It is known as 'Gavin's Stone', after the stonemason who found it.