Staff: Steve Burrow and Sian Williams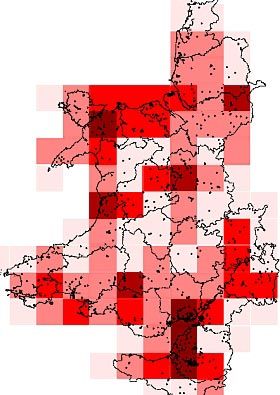 Since its development in the 1950s, radiocarbon dating has become the standard technique for dating human activity and environmental change from 40,000 years ago until the coming of the Romans. Over 4,800 radiocarbon dates have been published from Wales and the border lands (Somerset to Lancashire), a vast resource from which to develop histories of early life in these areas, but one which has so far been concealed within a myriad of disparate sources.
This project aims to collate these dates, and new ones as they appear, presenting them in an easily navigated spreadsheet. The initial data trawl involved a review of over 2,500 volumes of over 63 journal titles, for the period 1955 until the present. All listings of radiocarbon dates have been recorded in order to monitor how these dates were interpreted and any discrepancies in the numerical information presented. This last point is especially important since the review found that in almost 600 cases where radiocarbon dates have been published more than once, there were differences in the reported age.
The database is now available from www.museumwales.ac.uk/en/radiocarbon.
Its production has received publicity from British Archaeology Magazine. Work continues to maintain this database and to interpret its findings through research papers.