Staff: Gareth Beech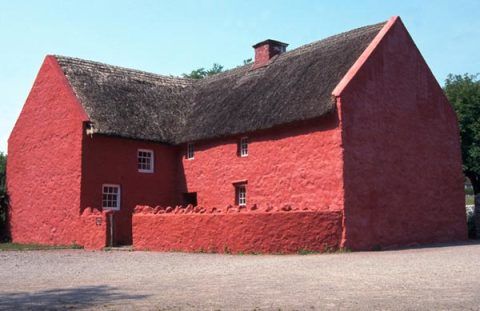 Kennixton farmhouse from Gower is one of the most popular historic buildings at St Fagans. It is the first many visitors come upon after entering the site, and because of its thatched roof and the striking reddish-orange colour of its walls. Although originally part of a farmstead, it has stood alone at St Fagans, as the farm buildings were still in use, until they too were offered to the Museum in 2007, and where they will be re-erected.
Research has concentrated on discovering how the inhabitants of Kennixton over several centuries, made their living from the land, and how they lived, in order to broaden the interpretation beyond that of the farmhouse alone. The addition of these agricultural buildings will enable the coherent interpretation of the farmstead and the people who lived there. Recorded interviews will examine the use of the barn and calf shed recently dismantled, as well as the former stable, and how changes in farming methods and production affected their use. The change to the farm becoming primarily a tourism business, leading to the redundancy of the buildings will also be included.
Research into the use of Cilewent has similarities to that of Kennixton, although the bleak, mountainous location of this Welsh longhouse in mid Wales and the type of farming contrast sharply to those on Gower. Although the agricultural connection is much more apparent because of the accommodation for animals and people being within the one building, it needs to be researched further in order to provide the information for a more comprehensive interpretation of how and why people farmed at Cilewent, up to its dismantling. Interviews will be recorded with local residents who were familiar with Cilewent in the twentieth century, and those who can set it in the context of the landscape, conditions and attitudes.