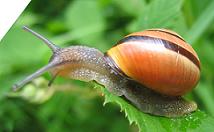 Banded snails can be found in most gardens. Its shell is larger than a five pence piece. It can be pink, yellow or brown with dark brown stripes.
Latin name: Cepaea species
Look carefully at shell to identify your snail correctly
It can have one stripe, lots of stripes, thick stripes or even no stripes!