About Circa Regna Tonat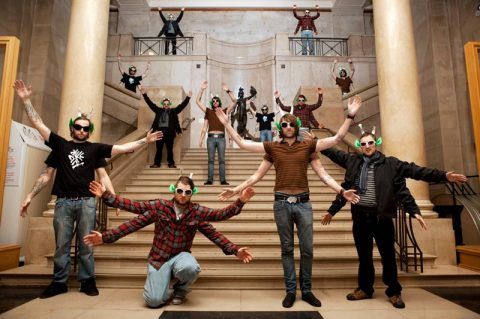 Circa Regna Tonat was formed in January 2006 by Adam Lewis, Daniel Barnett and Jonny Lee Evans through their mutual love of experimental music. The line-up was completed soon after by bassist Rhys Griffiths. Immediately the band started building a strong reputation as a great live act on the South Wales circuit. 2006 saw the recording of their first ep (extended play) entitled Burning Witches For Glue, followed a year later by the highly experimental second offering, Lightswitch Impulses. The latter has gathered a cult following in its wake due to the use of two basses and schizo-noise shreaks mixed with progressive, post-rock instrumentals.
During the past two and half years the band have secured high profile support slots with the likes of Taint, Noxagt, An Albatross, Rolo Tomassi and, more recently, Manatees, Part Chimp and The Airborne Toxic Event. Currently Circa Regna Tonat have just finished working on their forthcoming release, 'Dance-off with a Triceratops', recorded and produced by the respected Charlie Francis and set for release in early 2009.