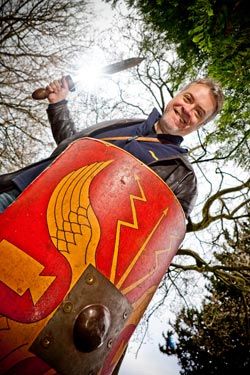 Charlie Francis is a well-recognised music producer, especially amongst indie bands, and has produced music by groups such as REM, Robyn Hitchcock and many more.
Growing up in York, early exposure to Top of The Pops, the John Peel show and his best friend's older brothers' record collection created an overwhelming desire to be involved in popular music.
Charlie bought his first bass guitar when aged 14, and by 17 he had started writing his own songs and forming his own bands. In an attempt to broaden his horizons, he moved to London at 19 to chase the dream. A first taste of the music business came playing with a colourful character named Patrik Fitzgerald, known as 'The Punk Poet', recording a single and touring Britain, followed up by a year spent as Toyah's bass player, touring and recording.
The young musician decided to break away after a couple of years to do his own thing, and there followed a period of doing session work while working on his own band 'The Lost Boys', eventually securing a major contract with MCA in 1986.
After time spent writing and programming, Charlie returned to work with bands in 1990, producing and engineering while occasionally playing bits on people's records (mostly keyboards), which has continued to this day.
Meeting Sean O'Hagan and the High Llamas in 1992 proved a serious turning point in Charlie's career, leading to the co-production of songs that formed half of their 'Santa Barbara' album, an association which has continued to this day with many exciting and creative recordings.
In 1997 he received a call from the world famous REM to engineer their next album. After meeting the band in Athens, Georgia, he was chosen for the job, and had a fascinating and rewarding time working with them on the 'Up' album.
In 2003 he and his wife fulfilled a long-held wish and moved out of London to the wonderful city of Cardiff. Having got to know the great people at Musicbox rehearsals, they joined forces to create a modest recording facility, in line with the current trend for low budget but killer recordings.
At present they are looking at ways to expand, without trying to become an old-style mega-studio, and are making many varied and wonderful albums and singles for a wide variety of labels.