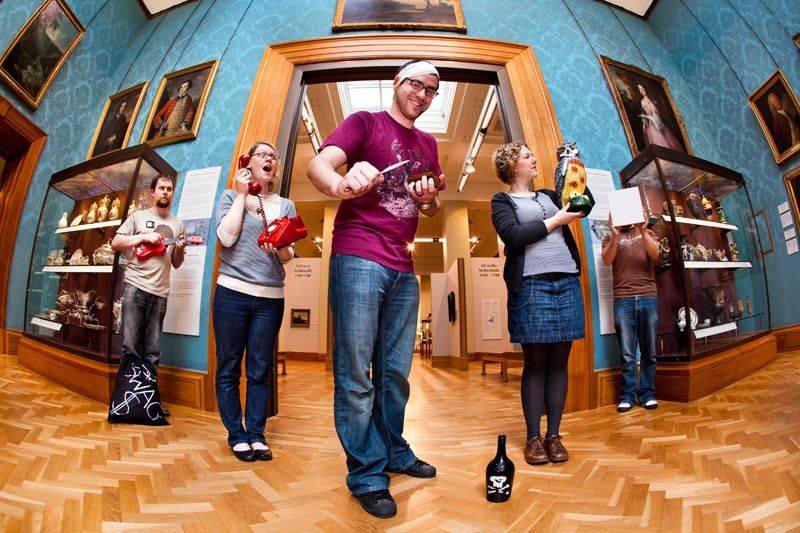 Silence at Sea started life as a boy-and-a-girl, guitar-and-a-voice duo, a bit like Simon and Garfunkel - but if Garfunkel was a girl and Simon had glasses.
Unlike Simon and Garfunkel, the duo grew into a quintet and added glockenspiel, violin, radio fuzz, bass and typewriter.
They have been described as lo-fi folk pop (by themselves), a twinkly-rock band (by someone else), as "film noir Talulah Gosh" (by Neil 'miswig' Jones) and have been likened to Laura Veirs and Kimya Dawson (by Peppermint Patti).
They have played with Cate le Bon, Victorian English Gentleman's Club and opened last year's Indietracks Festival. Between them, they have dressed as a cat and eaten a bee live on stage.
Silence at Sea have an old album (the oh-no! telephone), a new ep (super tachyonic anti-telephone) and a song about giant isopods. Members of Silence at Sea also play in Pagan Wanderer Lu and The Volunteers, Little My, Hornby Pylons and Vaginosaur.
The track in their own words:
The song is meant to be from Van Gogh's point of view, as he is going mad near the end of his life – when he cuts off his ear and gives it to his lover to spy on her (as if he can still hear out of it). He hears her with someone else and this makes him jealous and crazier.
I've seen other paintings by him where he paints things - including fields and sky - as fire, and this kind of represented his madness. I've read in various places that he took a few days to die after shooting himself while in Auvers, and that he may have finished a couple of paintings without realising he was mortally wounded - I guess this is fairly fanciful, but it makes for a good story I think!