St Teilo's Church
The Wall Paintings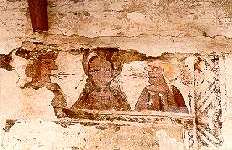 Most churches, and many houses, during the middle ages would have been decorated with brightly coloured wall-paintings. Church services would have been in Latin which very few ordinary people could understand: wall paintings (and pictorial stained glass windows) helped to convey the stories and messages of the Bible. Some churches had scenes showing the torments of Hell, the life or death of Christ, depictions of saints or angels, or combinations of one or more of these. They were painted directly onto the lime plaster which covered the walls.
Often, after a generation or so, new paintings would be painted over these wall-paintings to bring them 'up-to-date' or to illustrate some different theme. At the time of the Reformation in the 1530s these wall-paintings fell out of favour and were painted over. Later, it became fashionable to paint religious texts and verses on the walls, as well as the coat-of-arms of the monarch (who was by then also head of the Church of England). In Victorian times the walls were again covered over with whitewash, and so, for many years, centuries in fact, many wall-paintings remained hidden from view beneath layer upon layer of limewash.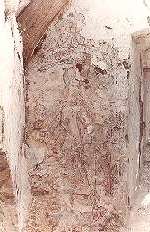 At Llandeilo Tal-y-bont two major series of pre-Reformation wall-paintings were discovered, plus two later schemes, as well as several texts and areas of decorative patterns. The two earliest paintings date from about 1400, one of which shows St. Catherine. The entire church appears to have been repainted about 1500 with scenes from the life of Christ.