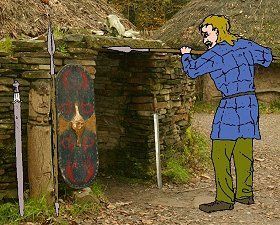 Who or what is threatening the village? Is it the Romans? Wild animals? The Vikings? Or is it other Celts?
Click on the pictures for the answer...
Sword
The Celts used this against other Celts and wild animals. The Romans came to Britain some time after the time of the birth of Christ. The Vikings came to Britain centuries later still.

Spear
A spear was a good weapon against wolves, bears and wild boars. These were a threat to the people and animals that lived in the village.
Click here to follow Caradog further...