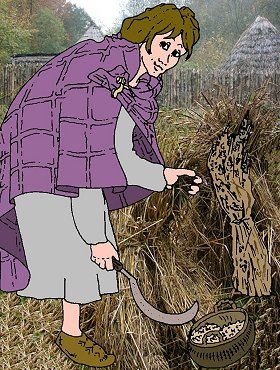 Meleri is gathering wheat from the field. What time of year is it? Spring, Summer, Autumn or Winter? What month is it? August or October? Click on the crops to learn more...
| | |
| --- | --- |
| They collected wheat in August. Here is Meleri collecting the ripe wheat. The weather is warm and fine. | Meleri is collecting the grain. Why? To sow in the spring time? So that it can be eaten as it is? To make bread? All of these! |
Click here to follow Meleri further...