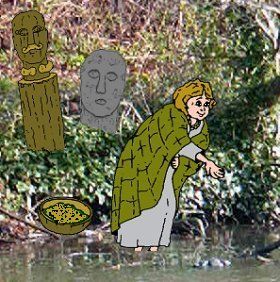 What is Nain doing on the banks of Llyn Mawr? There are three clues which tell us that this is a special place. What are they? Click on to the cartoons to learn more.
| | | |
| --- | --- | --- |
| a) This is a stone head. Perhaps it is the head of a god. What shape are the eyes? Is this a man or a woman? | b) This is a wooden head. Who is this? | c) There is corn in the wooden bowl. This is an offering to someone who we think lives in the lake. |
Click here for the answers!
a) We think it's a head of a male god. What do you think?
b) We don't know for sure. It might be a chieftain or perhaps it is a god.
c) Lakes, rivers and wells were very special places - holy places. This is where the godesses lived.
Click here to follow Nain further...