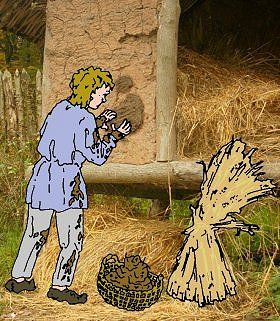 Do you have to tidy your bed? Well Benlli had to mend the granary! Click the pictures to find out how.
Daub
The wall is covered with daub, a mixture of mud and manure, straw and water, to keep the wind and rain out.

Reed
The roof and walls need a framework of wood [wattle]. Benlli then covers the wooden roof with a layer of reed or straw.
Click here to follow Benlli further...