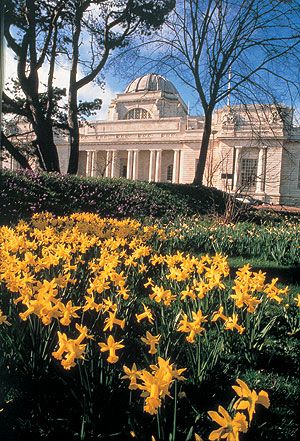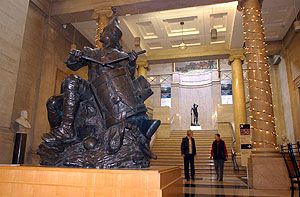 We will expand our community, strategic and financial partnerships so that the scope of our work is enriched and develops along new learning pathways and our museums become known and trusted worldwide as centres of knowledge and innovation.
We plan to complete the following strategic initiatives: (unless specified all will be delivered over the course of the plan)
Support CyMAL as it takes forward the Welsh Government's Museums Strategy for Wales (year 1 – year 3).
Extend Amgueddfa Cymru's partnerships work (year 1 to 3) and deliver the next phase of Sharing Treasures (year 1 – year 3).
Develop a framework to facilitate the formal and informal use of the museums by BAME groups.
Continue to develop our partnership relationship with Pembrokeshire Coast National Park.
Support Snowdonia National Park as they develop plans to create an interpretation centre at Yr Ysgwrn (year 1 – year 3).
Build our relationships with the local authorities and other cultural institutions of Wales's major cities including Cardiff City Council, Wrexham County Borough Council and City & County of Swansea to develop collaborative initiatives (year 1 – year 3).
Work with Gwynedd County Council and other partners to support the bid for World Heritage Status for the slate areas and the on-going relationship with the slate heritage partnership (year 1 – year 3).
Continue to contribute to the implementation of the management plan for the Blaenavon World Heritage Site and seek to deepen existing working arrangements with the other partners. In particular, deliver improvement work in collaboration with the Forgotten Landscapes Project (year 1 – year 3).
Investigate commercial product development opportunities (year 1- year 2).
Actively promote opportunities for external funding of research, including that from the Research Councils (year 1).
Work with Visit Wales in delivering the Welsh Government's Cultural Tourism Action plan ensuring that 'Making History at St Fagans' is included as flagship product development (year 1 – year 3).
Continue to explore opportunities for collaboration and partnership with other public bodies to ensure that Amgueddfa Cymru delivers the best possible service to the people of Wales in the most effective and efficient way (year 1 – year 3).
Engage actively with professional UK and international museum and cultural organizations, ensuring the interests of museums in Wales are represented (year 1 – year 3).
Vision Priority Area – 4 – Learning through sharing / 5 - Communicating