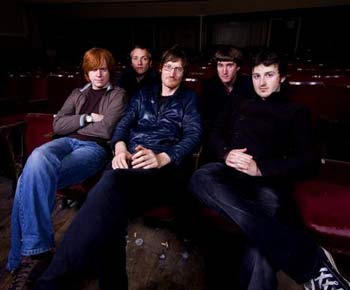 The Keys are a 5 piece group born from the ashes of Peel favourites Murry the Hump.
With a more focused sound, they wear their influences on the outside of their sleeves.
They've recorded an album for cult indie label Too Pure in the distant past, but are finally releasing new material as a collection of EPs over the course of the next year.
For this particular project, The Keys joined forces with Cardiff production outfit Wow and Flutter, who helped record and co-write the song.
Matthew Evans from the Keys and Andrew Parry from Wow and Flutter went along to the Amgueddfa Cymru – National Museum Wales Collections Centre in Nantgarw to look for inspiration from Wales' industrial past.
Matthew: "The Nantgarw centre was an absolutely amazing place, cluttered with every conceivable piece of delightful junk you could imagine!
We could have taken inspiration from almost anything there but finally we focused on a sexy looking thing known as a Gilbern GT in racing green. It turns out they were a Welsh car manufacturer that went bust in the 70's. So we had to write about it.
We wanted to create a track with a retro 70's feel to try and capture the essence of the car. Initially we went on an ELO tip, but it soon evolved into something more like Sabbath!
Doing this project was a lot of fun. We particularly liked creating something to order rather than just waiting for inspiration to come. It's definitely something that we will use during the writing process in the future."