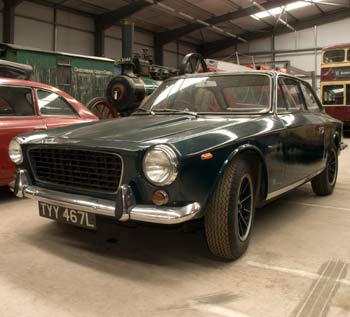 In 1959 Giles Smith, a butcher from Church Village near Pontypridd, decided that he wanted to build his own car. He wanted a luxurious grand tourer.
By chance Giles met Bernard Friese, a German engineer and former prisoner of war. They discussed Giles' idea to build a car from scratch. They decided to use glass fibre, a lightweight material commonly used for car bodies during the 1950s. Their original car was based around mechanical components from an Austin A35 and had steel wheels.
When the car was nearing completion Peter Cottrell, a local amateur racing driver, was invited to inspect the vehicle. In Peter's opinion the car was too good to be simply a one-off. Giles and Bernard then made the decision to start a business manufacturing cars. They named the company 'Gilbern', a combination of the names of its founders.
In 1961 Giles and Bernard purchased a workshop site at Llantwit Fardre with a loan of £700 from Giles' father. The site had formerly been the location of the Red Ash Colliery, which had closed in 1921. During 1961 and 1962 cars were built at the rate of about one a month. In total five people were working at the factory. Both Giles and Bernard were heavily involved in the construction of the cars.
As the popularity of the Gilbern increased, another fifteen staff were recruited and production rose as high as one car every week. Three models were produced; the GT, the Genie and the Invader. After experiencing initial success the company was sold to Ace Holdings. It later changed hands several more times.
Economic uncertainty eventually meant that the Gilbern factory was forced to close in 1974. The Gilbern remains the only production car ever to be made in Wales.
More than one thousand Gilberns were made, of which over 500 are still on the road. Many of the proud owners are members of the Gilbern Owners Club.