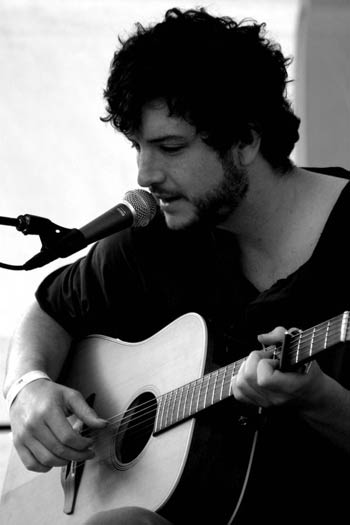 The Gentle Good is also known as Cardiff born Gareth Bonello, a Welsh folk singer and songwriter.
His honest and tender vocals are well matched to an intricate guitar style that owes much to the great guitarists of the 60s folk revival. A dedicated multi-instrumentalist his recordings are layered with subtle string arrangements as well as banjos, mandolins and glockenspiels.
Following a series of self released EPs, the debut album 'While you slept I went out walking' was released by Gwymon records in November 2008. The album was well received in the critical press, with Gareth variously being compared to Nick Drake, Martin Carthy, Bert Jansch, John Renbourn, John Martyn and Donovan by the likes of Mojo and the Guardian. The mighty Bob Harris repeatedly lavished high praise on the album on his Saturday night show.
A captivating live performer, The Gentle Good can enchant an audience with just a guitar, weaving dark stories amongst tragic folk songs as he performs.
Recent developments have seen Gareth perform with a string section – delivering a more complete sound closer to those heard on his records.
The Gentle Good is an experienced live act, having delighted audiences at home and abroad at festivals such as Celtic Connections, Lorient Interceltique, The Green Man, End of the Road, Latitude, Swn Festival, In the City and South by Southwest.
In the summer of 2009 The Gentle Good will be performing at The Green Man Festival, Glastonbury and the Smithsonian Folklife festival in Washington DC.
He is also a member of a country band called Silver Spurs with Eli Green and Ellie Harwood, which is a hell of a lot o fun.