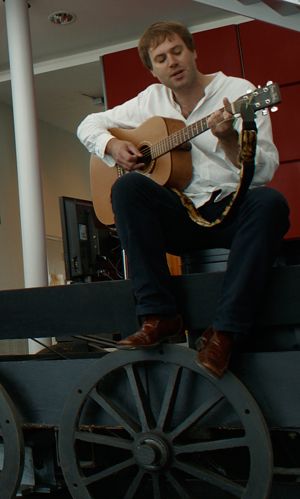 In his own words:
In every man's life there comes a time when someone will ask him to write a song about a train - my time came in 2009. I'm a liar, I wasn't specifically asked to write about a train, but simply to write a song about an object from the National Museum Wales [(and it doesn't happen to every man, which is a shame, but don't let that stop you].
I have written songs before - some were about Jehovah's Witnesses, others about dangling hearts, wizards without rooms or lady's eyes (as you do). Generally those subjects were emotive as I had some direct link to the particular song spark (yes, I know wizards). "What museum object could inspire me to write a song?" I thought. It didn't take too long to narrow my choice to the train that generally hangs around the National Waterfront Museum in Swansea. It's a working copy and you can watch it go for a spin once a year. I like trains.
Watt? No, Richard Trevithick built the original locomotive, way back in the early 19th century. It's part of his long engineering journey with steam. You can tell that I carried out a little research on this Trevithick character, mainly by reading a paperback by Anthony Burton. I recommend it as a good read.
Anyway, how did I tackle the task in hand? Initially I thought I would push all my whizz-bang-wallop recording techniques and tools and come up with something monstrous, but on second thoughts decided to keep it simple.
The final version of the song simply uses an acoustic guitar, some vocals and my good-self playing the mouth trumpet. I'm a novice mouth trumpeter - I had to listen to a lot of Dizzy Gillespie to try and pick up some tricks. I called the song 'For the love of steam'.
For the Love of Steam (an ode to Richard Trevithick)


G  - A# maj7b5 – G - E - D - A

E
Six generations ago
When the world it ran slow
When feelings were deep
Yet the coal could be found shallow

B m                                        C m
Only now do I appreciate your legacy 
And notice that all the sleepers parade in single file for thee

C                    A                         E
From the Cornwall mines to the tram-lines
Of the Glamorganshire canal
In the shadows of your footsteps
You have many that follow you
Now I do too

B m                             E
You are the first that we know of,
Your tall chimney improved the air-circulation of,
The five ton engine beneath,
The first steam train locomotive.

[Guitar solo - click clack]

C                    A                         E
Oh, for the love of steam
He spent a life fulfilling his dream
To create the perfect steam machine
Oh, for the love of steam
In high-pressure century nineteen 

A# m                   AM                    E
Only now do I appreciate your legacy 
And notice that all the sleepers parade in single file for thee
All for the love of steam
All for the love of steam

[Mouth Trumpet solo]

All for the love of steam

[Mouth Trumpet solo]