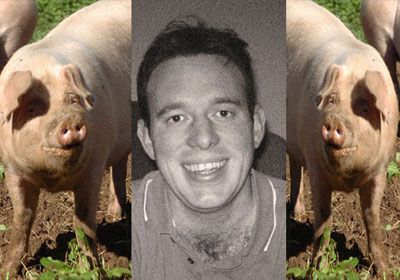 Dafydd ap Llwyd first came to national prominence when Lisa Gwilym played the instrumental "Y dyn bach sy'n byw mewn potel" ('Genial Genie') on her show on BBC Radio Cymru in 2008.
Dafydd ap Llwyd is Dafydd Wyn and Huw Llwyd, both of whom are originally from Bow St but now live in South East Wales.
They have been recording on and off since the 90s, but only recently showed their faces in the Oxjam event that they hosted at Nos Dal, Riverside, Cardiff in October 09 that raised over £400.
Their song "O Fri" was recently remixed by dubrobots.blogspot.com and subsequently played more than once on BBC Radio Cymru's C2 slot; and then released on iTunes through Nasty Vulture Recordings and Sentric Music Publishing.
A charity single with Sian Lloyd "The Weather" is also available to download from iTunes now as part of the Oxjam campaign.
Dafydd Wyn also records and performs in English under his pseudonym www.myspace.com/monkeyseamonkeydoo and did so in London for a few years until his recent move back to Wales.