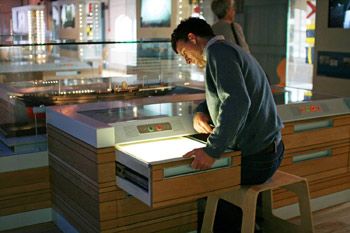 In addition to displays telling the story of industry and innovation throughout Wales over the last three centuries, the Museum houses an extensive research library. The library comprises more than 25,000 volumes and a photographic archive of over 40,000 images relating to the industrial, maritime and transport history of Wales. Researchers can also access the expertise of a team of specialist curators and the collections of the whole of Amgueddfa Cymru – National Museum Wales.
As well as a representative collection of industrial histories, the library also holds technical and instructional works for these industries. The library includes a complete set of Lloyds Registers from 1836 to present day (plus selected volumes from 1764 to 1832), and a series of volumes listing the shipwrecks that have occurred around the coast of the British Isles. The library also holds good runs of published lists of working mines and quarries from the 1850s to the present day, and runs of significant periodicals including H.M. Inspectors of Mines Annual Reports, which include lists of fatal accidents from 1850 to 1914. We presently subscribe to over forty current periodicals.
The reference library is open to the public, by appointment only. As a reference library the books may not be borrowed although books may be loaned to other libraries through an inter- library loan service.
If you would like to use the library you will need to make an appointment; this should be made with the curator responsible for the section of the library that you wish to see.
Opening times
Library: Monday to Friday: 10.30am-1pm & 2—4.30pm. Closed on weekends and national holidays.
Museum: Daily: 10am–5pm (see our Visiting page)
More information
See the National Waterfront Museum homepage.