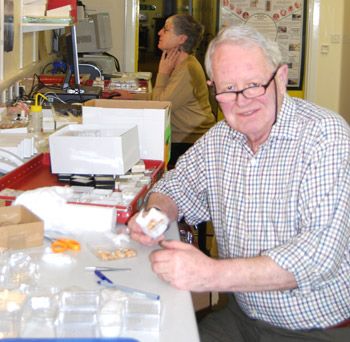 Name:
Dr David Williams
What is your role?
Re-housing the Mollusca sea - shell collections into new boxes
Which Museum do you volunteer at?
National Museum Cardiff, Biodiversity and Systematic Biology department (Mollusca)
How long have you been volunteering with the Museum?
About 7 years
What do you like about volunteering with the Museum?
It gave me a sense of purpose to make up for what I lost on retiring from work, a sense of belonging to a worthwhile team with shared goals, satisfaction when finishing another tray, and more so, another collection, and the companionship of the department. From the start, they made us both welcome and treated us as equals in the team*
What made you first think about volunteering with the Museum?
The suggestion by a Friend of the museum and longstanding participant who shrewdly recognised that I could contribute, provided I was not allowed anywhere near the general public!
What would you say to recommend volunteering to others?
Give it a go; it is so rewarding, good fun and such a splendid focal point to the week — beats golf any day, at least for me. Try it, no obligation. and it could well work for you.
*Dr Williams's wife Dr Valerie Williams also volunteers each week where they work on the mollusc collections together