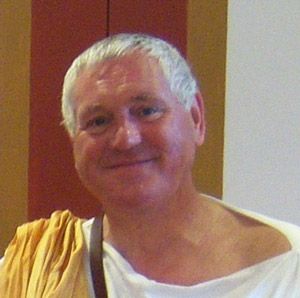 Name:
Stuart Wilkins
What is your role?
Mostly filling in as a facilitator for events and group visits. I have also done guided tours and a bit of gardening.
Which Museum do you volunteer at?
National Roman Legion Museum
How long have you been volunteering with the Museum?
About 2 years.
What do you like about volunteering with the Museum?
Working with the staff and visitors is a big thing for me. The staff are very welcoming. I really enjoy working with the enthusiastic visitors, enjoying themselves and learning things.
What made you first think about volunteering with the Museum?
A friend of mine at St Fagans National Museum of History said that the Museum in Caerleon was looking for help with some of its events. It was exactly the kind of thing I wanted to do.
What would you say to recommend volunteering to others?
I can't say enough about how rewarding it is. I get a lot out of helping people learn, and I am learning all the time myself. As a retired person it's a great use of my time.