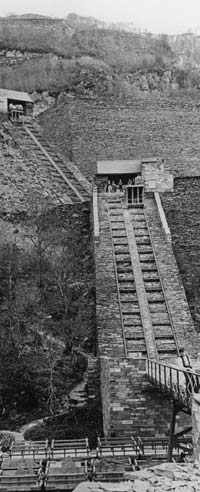 The Incline and the Wagons — Exporting the Slate
The quarry owners invested heavily in building roads and railroads to improve the links between their quarries and the ports. As its English name, Port Dinorwic, suggests, the little fishing village of Felinheli (between Bangor and Caernarfon) was developed into an important port for exporting Dinorwig Quarry slate. In the beginning, the slates were carried in panniers on horseback to Cei Llydan, on boats to Cwm-y-Glo and then on wagons to Caernarfon and Felinheli. But it cost more to transport the slate than it did to produce it — in 1778, for example, it was more expensive to get the slates to Felinheli that it was to take them from there all the way to Liverpool!
In 1824 a horse tramway was built to connect the quarry and the port. But by 1848-9, an even more effective way of transporting the slates had been developed — the Padarn steam railway. Engines Jennie Lind and Fire Queen were regularly to be seen steaming back and forth to Penscoins, just above Felinheli. But how did they get the slates down the mountain to the trains?
If you follow the signs to the incline you will see the answer: the slates were loaded onto wagons which would travel down the incline on rails to the bottom, where they would be run off. Their weight would haul the empty wagons back up the incline on a parallel track, and the process would begin again.
This incline, named the V2, was restored to its original condition in 1998, thanks to a grant from the Heritage Lottery Fund and it is regularly to be seen working. (In fact this is the only such incline working in Britain today.)
Getting the slates to the port was only the first step, of course. From there they went in their thousands on sailing ships and steamships to parts of Britain, northern Europe, North America and Australia — all four corners of the earth indeed!