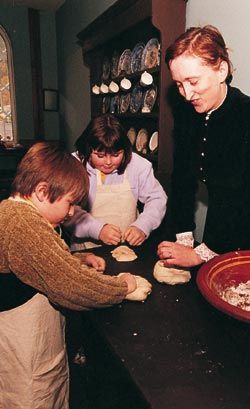 This is the first building you will see when you turn left after the entrance. The Engineer was responsible for every aspect of the engineering work in the quarry, so it was convenient for him to live in a house which was part of the courtyard itself. Between 1870 and 1969, a series of Engineers and Caretakers and their families lived here for various periods. Today it is furnished as it would have been around 1911, with the red velvet curtains and the organ in the parlour reflecting a higher standard of living than the houses of the ordinary quarrymen in the village below. You can see a kitchen, parlour and living room of the period; these days the bedrooms upstairs have been turned into offices.
As the Wash-house outside suggests, the women who lived in this house led physically demanding lives — what with washing, cleaning, baking, sewing and tidying, not to mention raising children. On top of all this, they had to keep the parlour immaculate in case of visitors — however much work, dust and noise went on in the yard itself.
This house, with its supply of electricity, would have been quite a bit more comfortable than the homes of the ordinary quarrymen and the men who worked in the yard — houses like the Fron Haul row , which you can explore beyond the café. But however comfortable the Engineer's house, it was very humble indeed compared with Y Faenol, the magnificent manorhouse where the quarryowners lived. Today, however, it's an excellent place to show how ordinary people of this area lived and worked in the first decades of the 20th century.