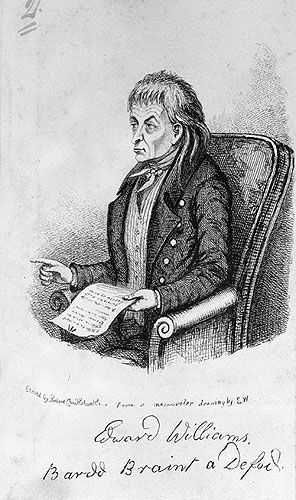 Edward Williams, Ned of Glamorgan or Iolo Morganwg (1747-1826) was the creator and father of the Gorsedd of the Bards of the Isle of Britain.
He was born in the parish of Llancarfan, Glamorganshire, and although English was his home language he soon became interested in the Welsh language, its literature and history. He was a stonemason by craft and travelled throughout Wales and to London. There, he came into contact with the Gwyneddigion Society and began to move in cultural and radical circles.
Iolo Morganwg was a genius - one of the founder members of the Unitarian movement in Wales, a political radical who supported the French Revolution, a pacifist, an antiquarian, a hymn-writer and an able lyrical poet who called himself 'The Bard of Liberty'.
But he was also a dreamer and a forger. He was addicted to the drug laudanum and this probably affected his perception of the world. The creation of the Gorsedd of the Bards of the Isle of Britain was part of his dream and vision for Wales and Glamorgan and he managed to convince the scholars of his own time that it was a totally authentic institution. But why did he go to such trouble? There are a number of possible reasons:
He was entranced by the romanticism of eighteenth-century neo-Druidism and he believed that Welsh poets had inherited the mantle of the Celtic druids.
When he was in London he realised that the English disparaged the language and culture of Wales. Therefore, he decided to create a brilliant ancient past for his nation.
Iolo was jealous of the Gwyneddigion's confidence that Welsh poetry and culture were at their purest in Gwynedd. Thus, he tried to prove that druidic traditions had survived only in Glamorganshire. As the scholar G. J.Williams has shown, 'The Gorsedd was an attempt at taking the wind out of the people of Gwynedd's sails - an attempt to show that they in Glamorgan had safeguarded the old Welsh institution in its original purity.'
And, of course, Iolo was central to his own vision. He wanted to define a central role for himself in Welsh history.
Historian Gwyn A. Williams crystallised Iolo's complex motives by claiming that he was driven by 'a Welsh resentment against arrogant English, a south Wales resentment against arrogant northerners, a Glamorgan resentment against the rest and a Iolo resentment against any who snubbed him.'
When Iolo died in 1826 Wales had scarcely begun to fathom the full nature and extent of his invention and deceit.