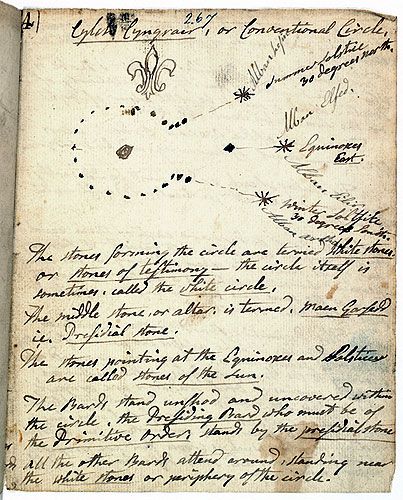 The first ever Gorsedd was held on midsummer's day, 21 June, 1792, on Primrose Hill, London. A second Gorsedd was held on September 22 and the Morning Chronicle presented an excellent report of the ceremony:
'Saturday, Sept 22, being the day on which the autumnal equinox occurred and consequently, in the phrase of Bardism, a Solemn Bardic Day, some Welch Bards, resident in London, assembled in Congress on Primrose Hill, according to ancient usage, which required that it should be in the eye of the public observation, in the open air, in a conspicuous place, and whilst the sun is above the horizon. The wonted ceremonies were observed. A circle of stone was formed, in the middle of which was the Maen Gorsedd, or altar, on which a naked sword being placed, all the bards assisted to sheathe it. On this occasion the Bards appeared in the insignia of their various Orders.'
Several further ceremonies were held in London and in 1795 Iolo returned to Glamorgan to hold his first Gorsedd in his native country. But the authorities thought that he was fermenting revolutionary activity and therefore it was not until after the end of the war, in 1815, that Gorseddau were able to begin to flourish properly.