The Llangollen Eisteddfod and Gorsedd, 1858 and the early National Eisteddfodau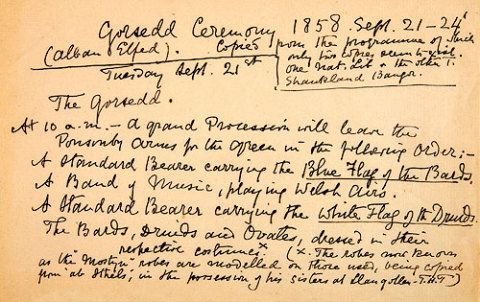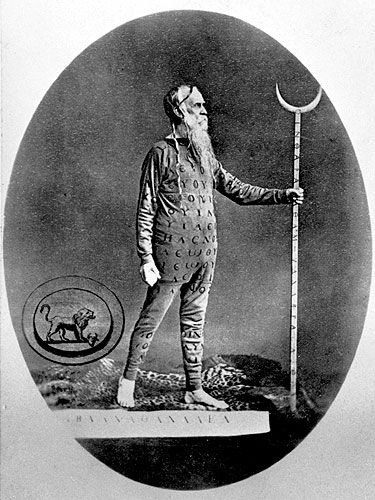 Between 1819 and 1858 some Gorseddau were enacted in the provincial eisteddfodau but these did not have a standard form or order. Then, in 1858, Ab Ithel (John Williams 1811-1862) rector of Llanymawddwy, who was 'stark drunk' on Iolo's druidic ideas, decided to try to establish a national eisteddfod and gorsedd at Llangollen under the auspices of the Chair of Powys. Thousands flocked to it and the Gorsedd provided a remarkable spectacle with the eccentric Myfyr Morganwg wearing a druidical egg around his neck and Dr William Price in foxskin headgear.
In spite of these strange sights the Llangollen eisteddfod and gorsedd were a turning-point for the eisteddfodic and gorsedd movements as this was the first step towards a National Eisteddfod with the Gorsedd as an integral part of its activities. Two years later, at Aberdare, Ab Ithel's dreams were fulfilled and the first National Eisteddfod and Gorsedd were held.
During the following years Gorsedd ceremonies evolved but everyone was not supportive of them. The druids were like 'a pack of madmen' according to Cynddelw (Robert Ellis) and others feared that the 'ancient' rites did not suit the image of the Victorian Age as 'The Age of Progress'. A correspondent with the Times was in his element in 1867, as he mocked:
'This remarkable piece of pantomime - the puerile fopperies of making Druids in broadcloth and Ovates in crinoline.'