The Proclamation Ceremony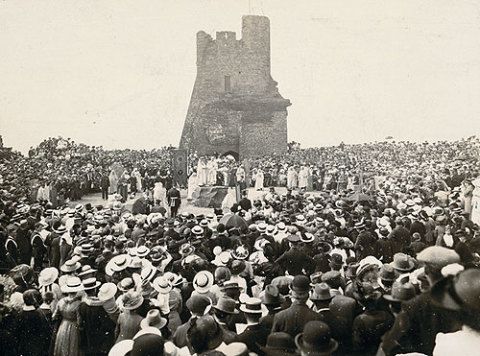 The visit of the National Eisteddfod and the Gorsedd of the Bards to a specific area has to be proclaimed at least a year and a day in advance. During the ceremony the Recorder reads the Proclamation Scroll and the first copy of the list of competitions for the following year's National Eisteddfod is presented to the Archdruid.
When Lord Rhys held a competition for poets and musicians at his court in Cardigan castle in 1176 it was noted that it had been proclaimed throughout Wales, Scotland, Ireland, England and the other islands a year in advance. This custom was revived when eisteddfodau were re-established in Wales at the end of the eighteenth century and likewise, in 1791, Iolo Morganwg chose to proclaim that the Gorsedd of the Bards of the Isle of Britain would hold its first ceremony on Primrose Hill, London, on June 21, 1792. This pattern has been adhered to ever since.