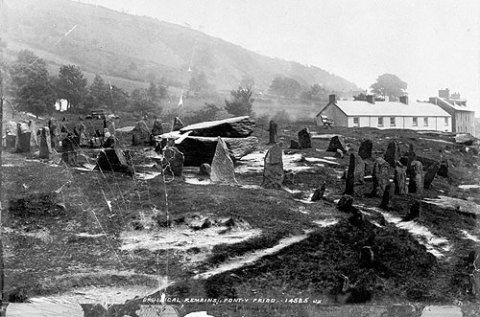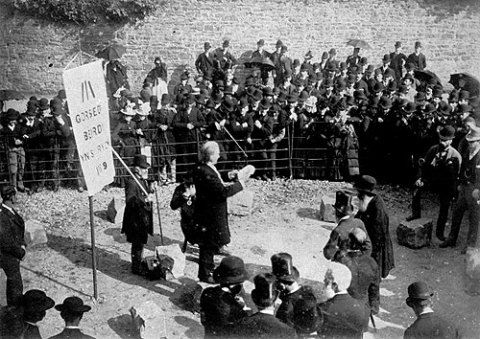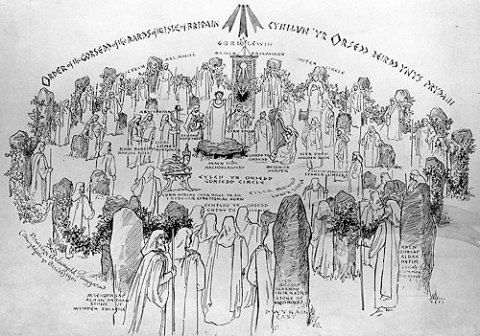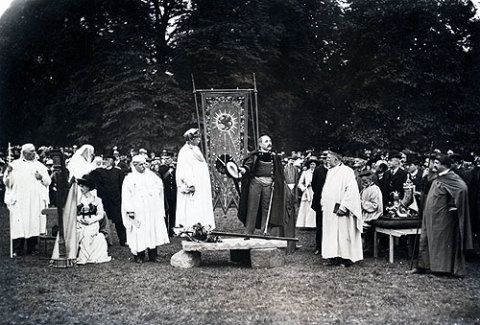 The Proclamation Ceremony and other Gorsedd ceremonies held during the week of the National Eisteddfod are held within the Gorsedd Stone Circle.
The remarkable stone remains at Avebury in Wiltshire and Dyffryn Golych, in his native county, probably influenced Iolo Morganwg's vision of a Celtic druidic stone circle. Thus, the first Gorsedd in 1792 was held within a circle of stones, with a Maen Gorsedd at its centre. However when Iolo came to link the Eisteddfod and the Gorsedd at Carmarthen in 1819 all he had to hand was a fistful of pebbles. Only Bards were allowed within this sacred circle of stones.
In Glamorganshire the Maen Chwŷf, a huge slab of slate stone, near Eglwysilan, was seen as a natural gorsedd and several meetings of the Glamorgan Chair were held on it during the first half of the nineteenth century.
Towards the end of the century, in order to inform future gorseddau, the Herald Bard - Arlunydd Pen-y-garn made a detailed plan of the Gorsedd Circle, and this was followed in the Cardiff Eisteddfod, 1899. According to this plan the stone to the east, the Maen Cyfamod, and the two Portal stones formed the shape of the mystic mark. For a time it was fashionable to dress the stones with oak and mistletoe leaves.
To facilitate holding the Gorsedd Circle on the Eisteddfod field itself during the week of the Eisteddfod, it was decided in 2004 to use fake (but realistic-looking) stones.