The Gorsedd of the Bards has three orders/degrees:
The Order of Ovates: in green robes. Candidates who pass Levels 1 and 2 in Gorsedd examinations in poetry, prose, music, or the tests for harpists and singers are admitted into this order. Members can be admitted to the order as honorary members for contributions of national significance. Several members of the royal family, including Queen Elizabeth, the Duke of Edinburgh and King George, have been admitted to this Order.
The Order of Bards, in blue robes. Those who have passed the final Gorsedd examination are admitted to this order. Those who have gained a degree in Welsh or Music (and who can speak Welsh) can also be admitted.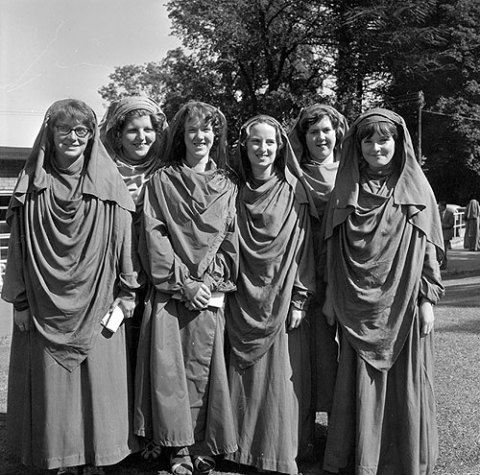 Members are admitted to these orders during the Monday morning ceremony in the Gorsedd Circle. The Herald Bard and the Bearer of the Grand Sword walk towards the entrance to the Circle and hold the Sword across it to bar the way. Every new member places his/her right hand on the Sword's blade. After a new member has been admitted he/she is led by the Marshalls to the Mistress of the Robes to be invested with his/her Order's head-dress.
The Order of Druids: in white robes. The winners of the main competitions - the Chair, the Crown and the Literary Medal - are admitted automatically to this Order. Others are 'elevated' to be Druids from the green or blue Orders. Every year, too, those who have served the nation, the Welsh language and its culture are honoured by being admitted to the Order of Druids, among them world-famous singers and actors such as Bryn Terfel, Sian Phillips and Ioan Gruffudd; influential Welshmen such as the Archbishop of Canterbury, the Right Reverend Rowan Williams and star footballers and rugby players.
Iolo differentiated between the bardic orders in the first Gorsedd ceremony in 1792 although he also emphasised that they should be considered equal in status.
By the second half of the nineteenth century there was real concern regarding the merit of Gorsedd degrees. The scholar, John Morris-Jones, was the severest critic, because, he claimed, 'candidates are admitted as members through an examination which is five times easier than the most basic University of Wales examination '. As a result candidates came to be examined more stringently in order to raise standards.