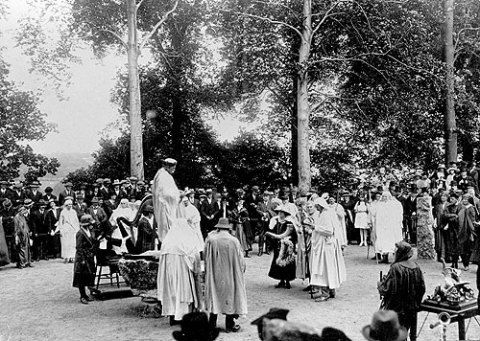 The Hirlas Horn is a symbol of the wine offered by Mam y Fro (the Mother of the area) hosting the National Eisteddfod to welcome the Gorsedd. Candidates are nominated for the role and chosen by a panel of gorseddogion.
It isn't certain when the rite was first enacted, but it is mentioned at Conway (the Chair of Gwynedd) in 1861.
Then, towards the end of the nineteenth century, Lord Tredegar (Ifor Hael yr Ail) announced that he intended to donate a Hirlas Horn, made by the designer and sculptor from Cardiff, W. Goscombe John. According to the artist, he was paid £359 for labour and materials. The Hirlas Horn was presented to Archdruid Hwfa Môn by Lord Tredegar in Cardiff in 1899.
It is described as an ox's horn (from South Africa) set in silver and resting on a huge silver dragon, which holds a large crystal ball in one claw. The coat of arms of the Tredegar family is emblazoned on it.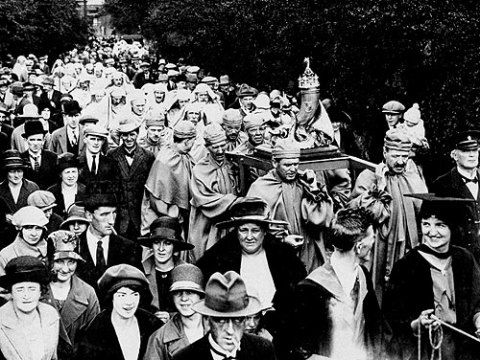 The Hirlas Horn was carried on a bier in Gorsedd processions during the first half of the twentieth century. In 1923 Arlunydd Pen-y-garn designed a beautiful red cloak for the presenter and a head-dress of gold lace was donated by Oswyn Afan.
In the early period the women chosen for the role of Presenter were gentlewomen e.g. Alicia Needham of Ireland, the Marchioness of Anglesey or the Mayoress of the town hosting the Eisteddfod.
When reforming the ceremonies in the thirties and enacting these changes in the fifties, Cynan called for a local 'Mam y Fro' to be chosen as the presenter.