The Split Swords (and the ceremony of uniting the two halves)

This was a ceremony between representatives from Brittany and Wales. It can be traced back to the 1838 Eisteddfod y Fenni (Abergavenny). During a dinner the leader of the Breton contingent, Vicomte Theódore Hersart de la Villemarqué (Kervarker), described the battle of St Kast, when the Bretons allegedly refused to fight with the French and the Welsh refused to fight with the English; instead of which they embraced in peace. During the dinner too, a poem by Lamartine, which mentions the Welsh and Breton custom of uniting two halves of a sword as a symbol of peace and brotherhood, was read out. This gave rise to the creation of the rite of the marriage of the two halves of the split sword.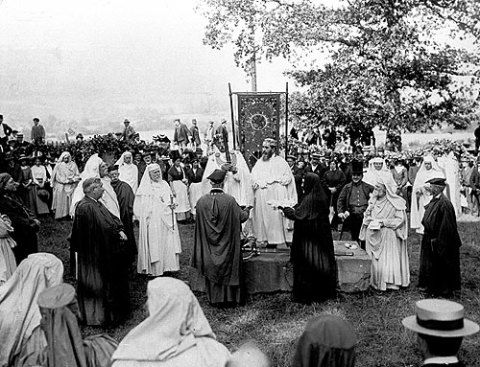 Gradually, on the suggestion of the Herald Bard, Arlunydd Pen-y-garn, the rite was introduced into National Eisteddfodau and after the establishment of the Breton Gorsedd in 1900 it came to symbolise the unity of the two Gorseddau. The ceremony was seen inside the Gorsedd Circle for the first time at Caernarfon, in 1911. It was a popular rite when Welsh gorseddogion travelled from Wales to Brittany too. It has been enacted occasionally throughout the twentieth century, although the relationship between the two Gorseddau has not always been cordial. The ceremony was last seen at Machynlleth in 1981.