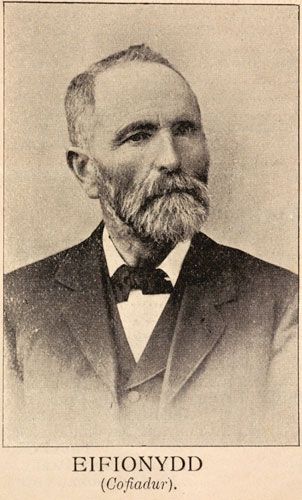 The Recorder of the Gorsedd of the Bards of the Isle of Britain is the Secretary of the Gorsedd Board and its supervisor. He/she is one of the main officers in the Gorsedd Circle and he/she is responsible for organising the ceremonies on the Eisteddfod stage. He/she proclaims the Eisteddfod and Gorsedd a year and a day in advance.
It seems that Gwynfe's (Recorder -1922-27) library, including the Gorsedd Minute Book for 1888-1921, was sold to the USA and this important historical document is now in the Library of Havard University, while the National Library of Wales has a copy of it.
Without doubt Cynan (1935-50; 1954-63; 1966-70) was the most influential twentieth-century Recorder. Ernest Roberts maintained that he changed the Gorsedd 'from being some sort of ministers' pantomime into a dignified pageantry'; 'from being the butt of derision and mockery into an institution which attracted Welsh scholars and professional men from several fields to accept its honours and to support its aims.'
Since Cynan's time succeeding Recorders have managed to maintain these high standards.