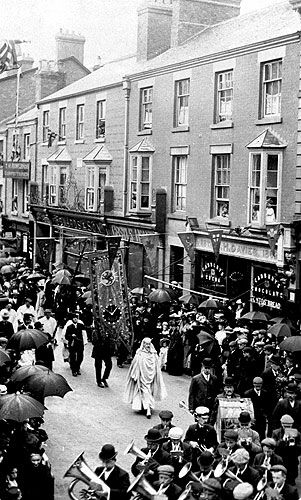 The Herald Bard looks after the Gorsedd furniture and regalia. He/she is responsible for the Gorsedd's Processions and he/she helps the Recorder to direct its ceremonies. He/she, in turn, is supported by other officials: the Examinations' Organiser; the Mistress of the Robes and his/her own appointments - the Marshalls.
The Herald Bard was a post which evolved during the nineteenth century. Without doubt, T.H.Thomas, Arlunydd Pen-y-garn, during his term of office, 1895-1915, was the most influential Herald Bard. Through his innate artistic flair he reformed and transformed the Gorsedd robes and regalia and the Gorsedd Circle.
Sieffre o Gyfarthfa, (Captain Geoffrey Crawshay), Herald Bard 1925-1947, led the Gorsedd processions, very dramatically, on horseback and in splendid riding gear. He published several pamphlets during his term of office dealing with Gorsedd 'membership', and 'the installation ceremony'. When he resigned in 1947 he presented a staff for the use of the Herald Bard.
Dilwyn Cemais (Dillwyn Miles), Herald Bard 1966-1996, published an invaluable volume on the history of the Gorsedd of the Bards, The Secret of the Bards of the Isle of Britain (Dinefwr Press, 1992) and also a book of his memoirs, Atgofion Hen Arwyddfardd in 1997.