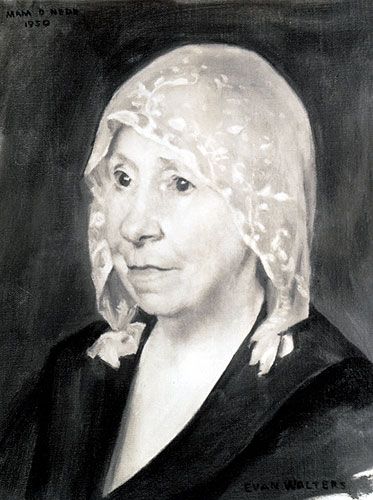 In her bright blue-green robe the Mistress of the Robes stands apart from the other members and officers of the Gorsedd. She supervises the condition of the robes at every Gorsedd ceremony throughout the year and she invests the poets and prose medal winners with their robes before escorting them from the body of the pavilion onto the stage for their respective ceremonies.
Such an officer was essential once the Gorsedd had introduced official robes c.1900 and Mair Taliesin (Gwenddydd Morgan) was the first to fulfil the role.
She was succeeded c.1923 by Mam o Nedd - Winifred Coombe-Tennant (1874-1956), a native of Cambridgeshire, who had married Charles Tennant of Cadoxton Lodge, Cadoxton, Glamorganshire in 1895. She had been Chair of the Neath National Eisteddfod's Arts and Crafts Committee in 1918 and had severely criticised the lack of dignity and untidiness of the Gorsedd Procession during the 1917 Proclamation ceremony. Mam o Nedd left £5,000 in her will towards the repair and refurbishment of Gorsedd robes and regalia.
Siân Aman (Jean Huw Jones), the Mistress of the Robes' (1983 onwards) annual reports to the Gorsedd Board illustrate the nature of this responsible post; not only the need to renew robes every year but also the constant demand upon her to talk to cultural societies around Wales about her role.