The Albert Medal and the Tynewydd Inundation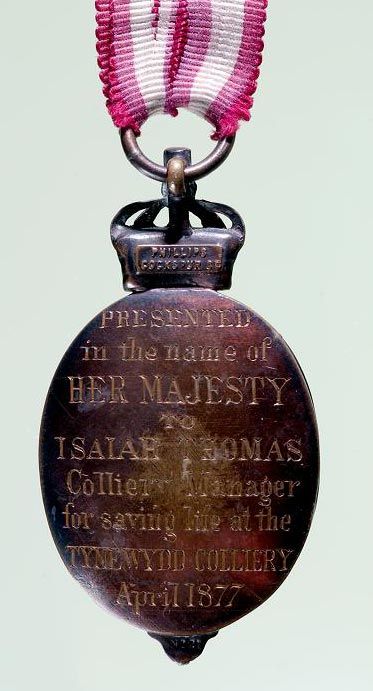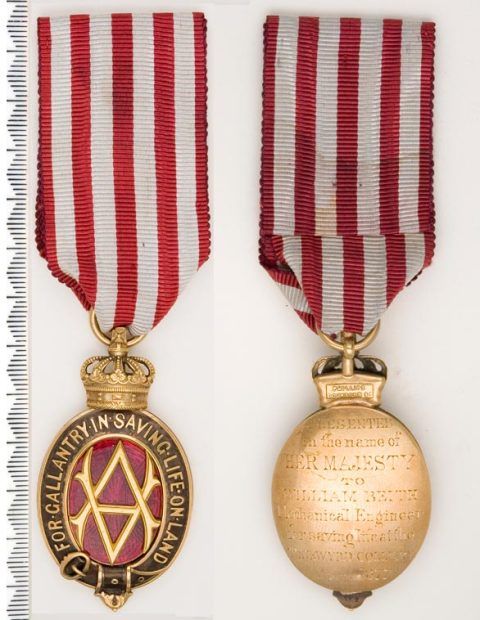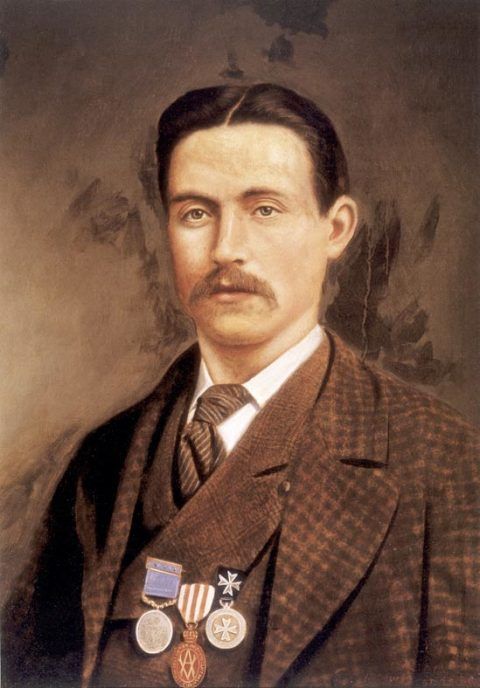 In April 1877, the success of a ten days' operation to rescue four men and a boy trapped by floodwaters in a South Wales colliery raised an awkward question: how to reward the rescuers?
The Albert Medal, introduced in 1866, was regarded as the civilian equivalent of the Victoria Cross (itself instituted in 1856) - but it only covered 'daring and heroic actions' by mariners and others in saving life at 'wrecks and other perils of the sea'.
News of the and the desperate and courageous rescue attempt had attracted huge press and public interest and the electric telegraph ensured that the Government and even Queen Victoria herself were kept fully informed. Bulletins were posted in the Lobby of the House of Commons. Special supplements were published after the event by both The Graphic and The Illustrated London News. Official recognition of the rescuers' courage was immediately raised at the highest level with the Queen deciding to extend the Albert Medal to cover gallantry on land.
By 18 July, the Queen had approved specimens of each class of the 'land' medal; like its maritime counterpart, the Albert Medal (Land) was of two classes. The Albert Medal, unusually, did not bear the portrait of the monarch. It took the form of a composite jewel bearing the initials of Victoria and Albert on an enamelled ground, manufactured by Phillips & Son, of Cockspur Street, London. The ribbons of the Second Class awards were considerably narrower (5/8"/16mm) than those for the First Class (1 3/8"/35mm).
The London Gazette of 7 August 1877 listed three groups of awards: four men received the 'Albert Medal of the First Class'; and twenty-one received 'Albert Medals of the Second Class'.
'First Class' Albert Medals were awarded to William Beith, Mechanical Engineer of Harris's Navigation Colliery, Quakers Yard; Isaac Pride, collier, of Llwyncelyn Colliery; Daniel Thomas, Colliery Proprietor, Brithwynydd; and John William Howell, collier of Ynyshir. These were the men who had faced the highest danger, breaking through to the trapped colliers.
A fifth, Abraham Dodd, also of Ynyshir, curiously went unrewarded.
Ten second class medals were given to those who had cut the coal and a further ten to colliery owners and managers who had played significant parts in the rescue. The twenty-first award was cancelled: James Thomas, owner and manager of Tynewydd Colliery was at that time also facing charges of manslaughter in connection with the inundation - of which he was eventually cleared.
Amgueddfa Cymru's collections now include six of the Albert medals awarded for Tynewydd, including three of the four First Class (Thomas, Beith, Pride; does anyone know the whereabouts of Howell's medal?) and Second Class awards to Rees Thomas (collier, Tynewydd), Edmund Thomas (owner, Llwyncelyn) and Isaiah Thomas (manager, Brithwynydd).