The art of the Japanese Tea Ceremony
In 1915, several crates of textiles, lacquer, woodblock prints and utensils used for the Japanese tea ceremony (chanoyu), arrived at the Museum. These were sent from Japan by Bernard Leach, whose career as a potter was heavily influenced by his Japanese experiences. The items were previously undocumented and the purpose behind their acquisition was totally lost until 2001, when new archive discoveries made it possible to identify them.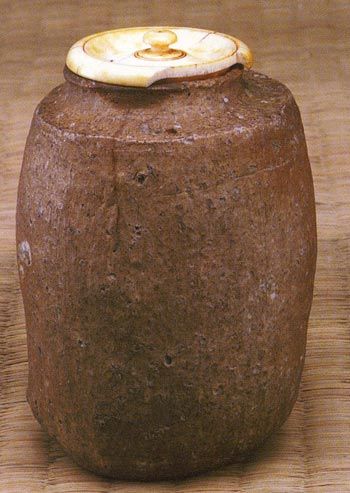 '...something unique'
When Bernard Leach first went to Japan he was a young artist just discovering Japanese pottery. However he was soon to become the pre-eminent British potter of the 20th century.
He did not doubt the value of the collection, describing it as 'something unique.' Taking advice from Japanese tea masters, he brought together objects of the type most valued in the Japanese chanoyu tradition, following principles established back in the 16th century. These dictate that the objects used should be simple and unpretentious, and contribute to the quiet sense of contemplation that a tea ceremony inspires.
The chaire (tea jar) sent by Leach displays these qualities perfectly. It is an example of the roughly made stoneware of Shigaraki, prized by tea connoisseurs since the 15th century. Guests would traditionally take pleasure in examining and praising such an object after the host had finished serving tea.
Recreating chanoyu
Chanoyu is an art of life, a highly ritualised act of hospitality. Objects are chosen, arranged and handled with meticulous care, so that the combination of objects and people, time and place, makes each ceremony a unique and unrepeatable occasion. Leach was insistent that this same regard was observed when the collection was displayed at the Museum in 1924.
Japanese traditions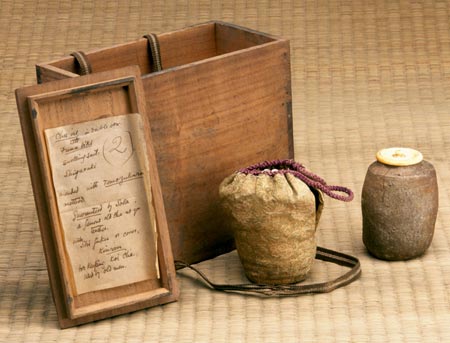 When Leach was in Japan, the preservation of Japanese heritage was under considerable threat from rapid industrialisation and westernisation. Some saw the tea ceremony as a metaphor for traditional Japan, and Leach hoped that this acquisition could allow a better understanding between East and West.
In later life, Leach used his experience to act as a mediator between the cultural worlds of Western Europe and East Asia. However, we now know that the Japanese circles he moved in were themselves influenced by Western thinking and that his claims to have understood an authentic Japanese tradition should be treated with scepticism.
Nevertheless, Leach stands out as one of the key figures in the ongoing history of interaction between Europe and East Asia. It seems fitting that, just as these items are valued for their beauty and their antiquity, they are now also valued for their association with Leach himself.
Background Reading
Edmund de Waal, Bernard Leach (London: Tate, 1999);
Emmanuel Cooper, Bernard Leach: Life and Work (New Haven & London: Yale University Press, 2003);
Kakuzo Okakura, The Book of Tea (New York: Dover, 1964);
Paul Varley and Kumakura Isao (eds), Tea in Japan: Essays on the History of Chanoyu, (Honolulu: University of Hawaii Press, 1989)