Early in lockdown decorated pebbles began to appear beneath park benches, on gateposts and even in stacks on the local pebble beach. This was all part of a trend in decorating, hiding and hunting out pebbles which, when found, are then rehidden somewhere different. Such pebbles often have a message painted on the underside which may point to a Facebook page where the finder may post a photograph of themselves with the found stone. During the lockdown period, whilst families and households were only permitted to exercise locally, many more decorated pebbles were made and hidden. It became something for families to do whilst out on their daily walk, selecting and collecting suitable pebbles, then carrying them home to design and paint them. Once the paint was dry the decision could be taken where they should be hidden. During lockdown what had previously been paintings of Minions, bees and ladybirds suddenly became rainbows, the NHS logo or simple messages of hope.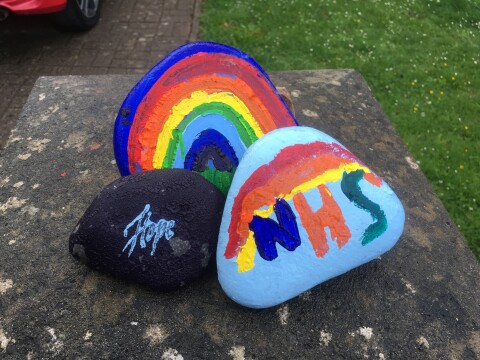 Decorating pebbles is nothing new. During the Upper Palaeolithic period portable art began to be created at the same time as people began painting murals on cave walls. At the time the early modern humans, who were exactly as we are today, found ways to express themselves through art. By 12,000 BC, after the last Ice Age had come to its end, we find evidence surviving of painted pebbles amongst finds recovered from caves including Mas d'Azil, France. Pebbles with engravings were not uncommon too. Stones were often carved and engraved using carefully knapped flint and chert stone tools and being made of stone, which does not deteriorate, many such decorated pieces survived.
In Wales the oldest decorated pebbles were found during excavations of the Mesolithic site at Rhuddlan, Denbighshire. Here six engraved pebbles dated to around 7,500 BC were discovered, all these pebbles depict striations, or incised lines, which on some appear as random designs, but on others create distinct shapes. The pebble below has the appearance of a woven fishing basket, similar in appearance to fish baskets recovered from waterlogged deposits in Denmark.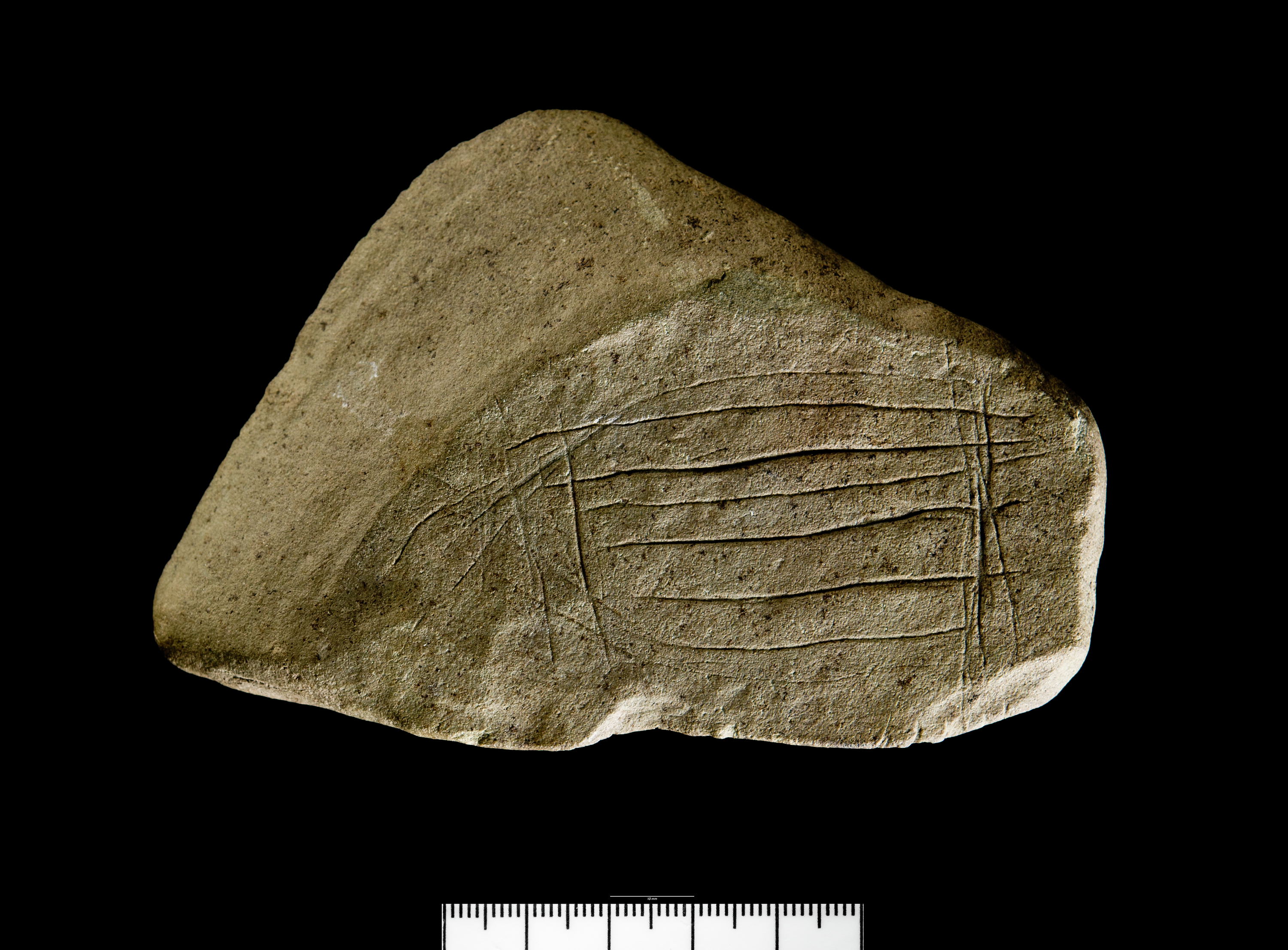 Another decorated pebble, found during the same excavation at Rhuddlan, may be interpreted as a person, a figure wearing a necklace with a stomach or womb below.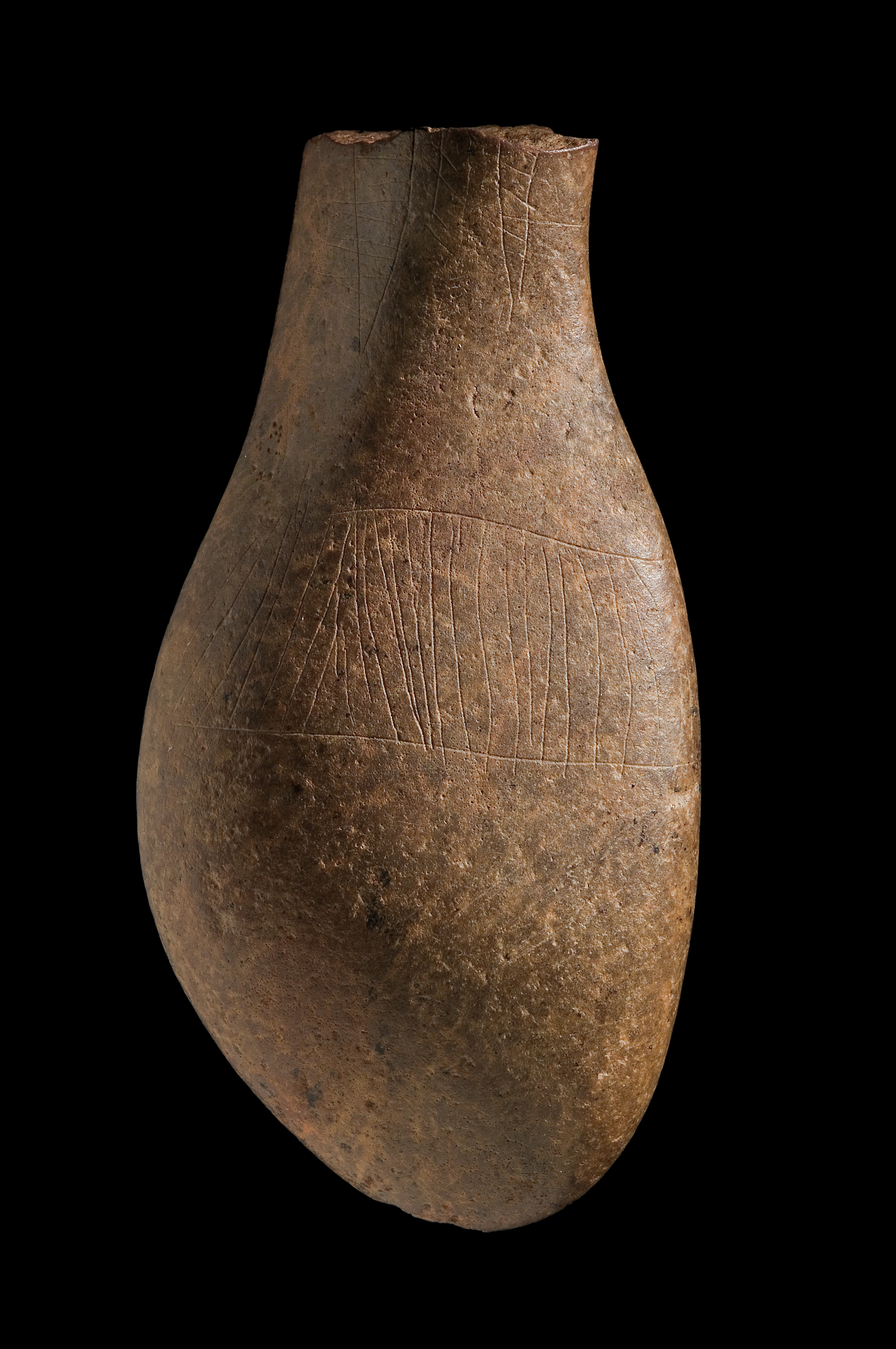 What might such decorated pebbles mean? Were they ornaments designed to be pretty, or interesting items left in their owners' huts? Or did they have some wider significance?
If we look at the painted pebbles of today, we can see they often carry their own meanings and symbolism. Some of this may only be visible to those who made them, whilst others are more obvious.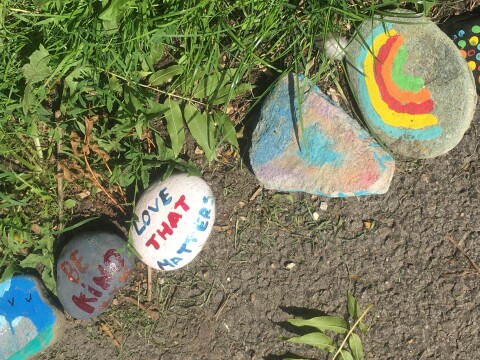 During the Covid-19 pandemic the rainbow has become an iconic image. The rainbow is traditionally a symbol of peace and hope – after a period of rain the sun will shine once again. Rainbows painted by children have been found in house windows around the world. Their appearance on painted pebbles may be seen as another expression of this desire to spread hope in this way.
Pebbles are also being used to carry and convey other messages. Some of these are blatant, as with the pebble below, spotted in Chepstow just one day before pubs and cafés with outdoor seating reopened their doors.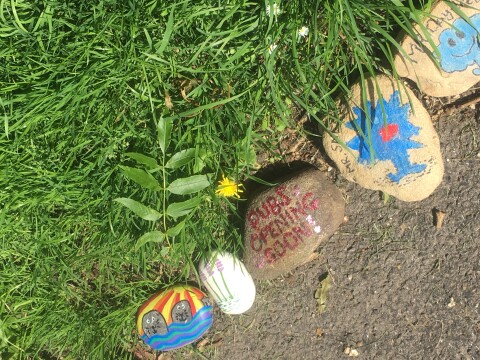 Responses to Amguedda Cymru – National Museum Wales' Collecting Covid Questionnaire have included a number of references to painting and decorating pebbles as an activity that has kept people busy. Katie from Miskin tells us 'We have painted stones to hide, for others to find.' Another respondent has mentioned the line of over 500 pebbles crossing a bridge over the River Wye.
Some towns and villages have created snakes of hope, made from decorated pebbles, as at Chepstow, Monmouthshire, where residents have been asked to paint a pebble to add to the line. At Boughrood, Powys, a line of over 500 pebbles crosses the bridge over the River Wye. This may be seen to convey the car, cyclist or walker safely to the other side of the river and offers a metaphor for the safe conveyance of us all through to the other side of this Covid crisis.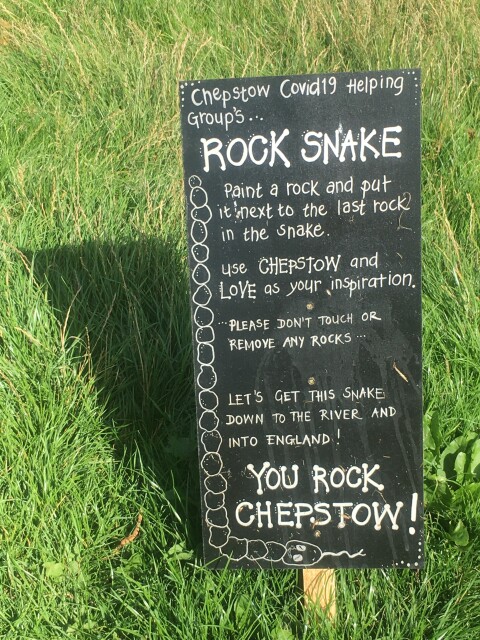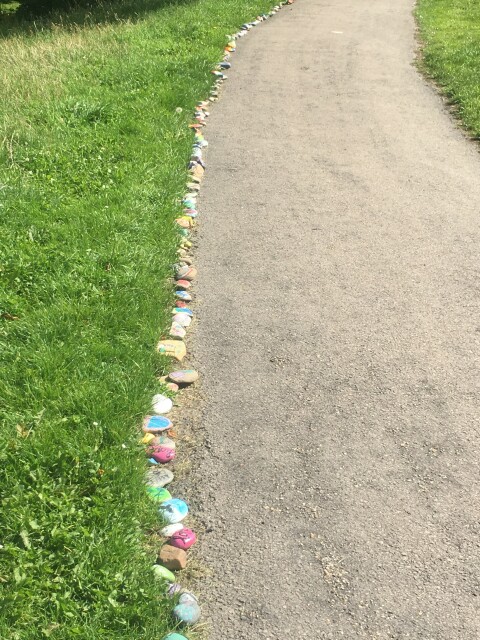 Looking at the Mesolithic pebbles in the National Museum's collection it becomes possible to see these in a new light. Could these ancient pebbles equally have conveyed meanings that are now hidden to us? Might these pebbles once have lined an important route to a fishing ground, or been given as a symbol of hope to a woman during childbirth, or as a means of aiding her fertility?
Much of this remains speculation, but seeing pebbles during these recent months has offered many people renewed hope and acts as a reminder that the tough days will pass and life will go on.