Ordinary heroes in extraordinary times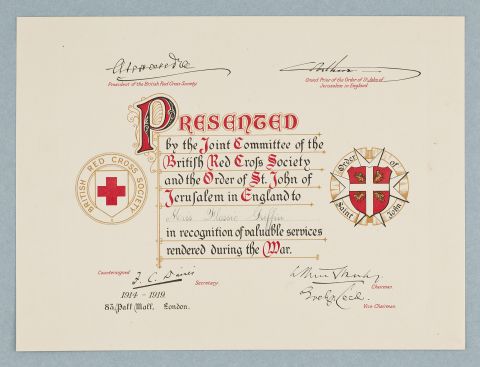 Collections Online: Certificate
The current health crisis has prompted a call for volunteers to support the NHS and plans are underway to convert large venues into field hospitals.
Over a century ago, similar preparations were taking place all over Britain in anticipation of the outbreak of the First World War. In 1909 the British Red Cross Society had joined forces with the Order of St John to form the Voluntary Aid Detachment scheme. Detachments (known as VADs) were to provide support and services to military hospitals. They were organized at county level and members included men and women who carried out a range of voluntary positions.
The first VAD in Wales was formed at St Fagans, Cardiff in November 1909. At that time, Countess Plymouth from St Fagans Castle was the President of the Glamorgan branch of the British Red Cross Society. Soon after, detachments were formed across Wales, bringing the total to 32 by September 1910. From thereon the work started in earnest, recruting and training members and converting buildings into hospitals.
On 24 September 1910, over 200 men and women from the newly formed VADs in Glamorgan gathered at St Fagans Castle grounds. The main purpose of the day was to recruit more volunteers, particularly amongst young women. Demonstrations were also carried out on the day, such as how to treat patients in the field using first aid and only limited basic equipment. Such events became a regular occurance at St Fagans Castle in the years leading up to the war.
Detachments would meet at least once a month and members (also known as VADs) would gain experience by volunteering in hospitals. Women VADs were taught first aid, home nursing, hygiene and cooking while men were trained in first aid in-the-field and stretcher bearing. VADs had to pass exams to receive their first aid and home nursing certificates.
Some of the VADs were dispatched to hospitals across Britain but most would volunteer within their own communities, such as at St Fagans. Due to a lack of hospitals, all sorts of buildings were offered for use to the Red Cross – from village halls to mansions. These were converted into auxiliary hospitals of about 30 beds that would support a nearby military hospital. In 1916 Earl and Countess Plymouth of St Fagans Castle offered their large Banqueting Hall in the grounds of the Castle to be converted into an auxiliary hospital.
By the outbreak of the First World War in August 1914, the work of the VADs had ensured preparations were in place to deal with the first casualties returning from war. From thereon many more volunteers were recruited and trained. In all, 90,000 volunteers worked at home and abroad during the war, playing a crucial part in caring for the sick and wounded.
Over the coming weeks, we'll be posting more about some of the volunteers who worked at the St Fagans VAD Red Cross hospital.