What's On
Event

:

Virtual Reality Experience
Big Pit National Coal Museum
2 April 2019 – 2 April 2022,

9.30am-5pm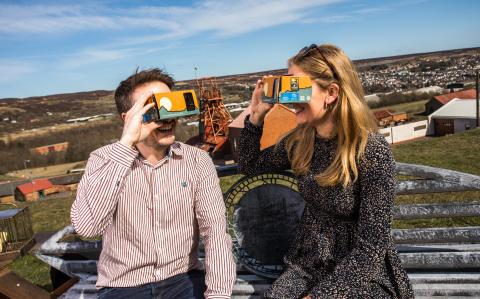 Featuring real characters from Blaenafon's industrial past, 'Time Travel in the Blaenavon World Heritage Site' uses audio storytelling and three-dimensional technology to display the town's rich industrial history through three virtual reality films ― showcasing life at Big Pit, the town primary school and the home of a local family in Blaenavon Heritage Town.
Using smart devices, the immersive content can be viewed at three iconic locations across the internationally celebrated region, including Big Pit National Coal Museum, Blaenavon World Heritage Centre and Blaenavon Heritage Town ― which all feature in the immersive films.
Available to view via the Blaenavon Digital Passport, the virtual reality features portray the trials and tribulations encountered by Blaenafon's industrial workers, as well as families and communities during the Industrial Revolution ― with each educational film based on real characters and factual information sourced from local history groups and archives.
From experiencing the hardship of working life at Big Pit with local miner, Henry Underwood, to celebrating the opening of St Peter's School ― which was built by Sarah Hopkins in remembrance of her brother and Ironmaster, Samuel Hopkins ― watch in real-time as modern-day Blaenafon landmarks and buildings return to a momentous time gone by.
The films can be viewed with or without an accompanying VR headset, which are available to borrow from Big Pit National Coal Museum (deposit of £5 required) or Blaenavon World Heritage Centre, or can be simply viewed using a mobile phone. Plus, you can revisit the on-site experience and view the digital package at home using a desktop browser.
In addition to the arrival of the new digital package, Torfaen County Borough Council and Big Pit National Coal Museum have unveiled three bespoke Time Travellers' benches to support the project ― with a different bench design located at each site for visitors to use while enjoying the immersive VR films.
Created by Welsh artist Rubin Eynon, each bench has been designed to commemorate Blaenafon's rich heritage and forged out of local materials to represent the area's coal and mining industries.
Internationally recognised as the world's major producer of iron and coal during the 19th century, Blaenavon World Heritage Site is an exceptional testimony to the dynamic forces that drove the Industrial Revolution. It is hoped that the new immersive experience and Time Travellers' benches will encourage visitors to further engage and take interest in the area's rich heritage.
What's On