What's On
Event

:

Man Engine
Big Pit National Coal Museum
Finished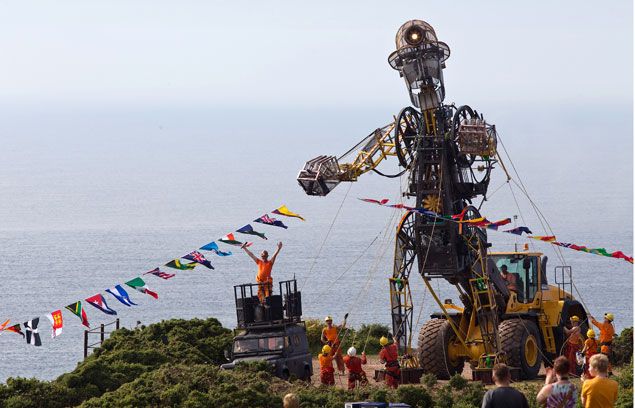 Join us to see the amazing spectacle that is Man Engine as he makes his FIRST appearance in Wales at Big Pit!
The huge mechanical puppet, which resembles a giant miner, is set to visit seven of south Wales's most important industrial heritage locations for a week of celebrations from 08 – 12 April 2018.
Animated by a team of more than a dozen 'miners', the giant puppet will begin its grand tour of Wales on 08 April, with an opening ceremony at Big Pit National Coal Museum and a parade down to Blaenavon Ironworks, where visitors can 'meet' 19th-century industrial hero, Sidney Gilchrist Thomas.
Please note the following information:
Park & Ride
Free shuttle buses will run a 15-30 minute service between Old Mill Car Park in Pontypool and Blaenavon Ironworks, with the first bus departing Old Mill Car Park, Trosnant Street at 10:00. The last bus will leave the Ironworks at 17:05. The buses will stop at every marked bus stop en-route and will run via both Cwmavon and Varteg Hill. See timetable at: http://philanslowcoaches.co.uk/bus-services/3706147
Car Parking
As much as possible, we would encourage visitors to use the free shuttle buses as parking in the Blaenavon World Heritage Site is limited. Limited Parking will be available at the Garn Lakes overflow car park (follow signage to this car park) but please note that it is a 20 minute walk to the Big Pit and Ironworks from here.
Disabled Parking
Limited parking for drivers displaying a valid Blue Badge ONLY is available at Blaenavon Ironworks car park. Follow the "Disabled Parking" signs.
Big Pit Car Park
There is limited parking at the Big Pit, which a parking charge of £3. Due to the road closure, access to this car park is only available before 10:00, and users will not be able to leave the site until 14:00. If you need to leave before 14:00 please find alternative parking.
Road Closure
There will be a full road closure in operation from 10:00 until 17:30 on Gilchrist Thomas Industrial Estate, Kennard Place and Estate Road.
No Parking
In order for the event to run smoothly, we request that no vehicles are parked along Gilchrist Thomas Industrial Estate, Kennard Place and Estate Road. In addition, no parking cones will be placed along Church Road from Kennard Place to Stable Row to ensure ease of access for the shuttle bus and other vehicles.
Designed to celebrate the rich mining heritage of south Wales, each stop on the Man Engine's tour of Wales will offer bespoke spectacles, from gripping theatrics and nostalgic choral renditions, to traditional Welsh storytelling and even an awe inspiring after-dark fire show.
After kicking off his tour at Big Pit the colossal engineering miracle will visit Blaenavon Ironworks, Cyfarthfa Park and Castle, Ynysangharad War Memorial Park, the National Waterfront Museum Swansea, Swansea City Centre and the Hafod-Morfa Copperworks as part of his journey across Wales, entitled: "Man Engine Cymru: forging a nation".
Free, un-ticketed entry will be vailable to visitors at Big Pit and the Gilchrist Industrial Estate in Blaenavon, the National Waterfront Museum Swansea and Swansea City Centre.
Tickets for the events at Blaenavon Ironworks, Cyfarthfa Park and Castle and Hafod-Morfa Copperworks are now available via the Man Engine website. Free tickets are also available for the event at Ynysangharad War Memorial Park.
The Welsh tour is a collaboration among the cultural sector in Wales, with Swansea University working in partnership with the Welsh Government's historic environment service (Cadw), Amgueddfa Cymru-National Museum Wales, four local authorities (Torfaen, Blaenau Gwent, Merthyr Tydfil, Rhondda Cynon Taf and Swansea), Head 4 Arts and Golden Tree Productions.
What's On