What's On
Event

:

Obon:Lantern Festival Family Workshops / 日本:お盆 ファミリー ワークショップ
14–17 August 2018,

11am - 4pm
Booking
Pay at the shop on arrival.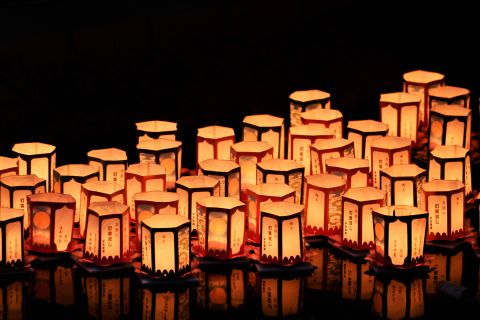 In Japan Obon is an important festival which celebrates the spirits of the dead coming back to be reunited with their families. Paper lanterns are lit to help guide the spirits home or to their resting place.
In these family workshops you will visit the Kizuna exhibition, make and decorate an Obon lantern, and try floating it on our indoor 'river'.
Obon is being celebrated alongside Kizuna a special exhibition celebrating the bond between Japan and Wales.
Come and join us – drop-in at any time between 11am and 4pm.
日本のお盆は、先祖の霊をお迎えし、祀る大切な行事です。先祖が迷わずに帰って来れるように迎え火を焚き、送り火で帰る道を明るく照らします。
お盆ファミリーワークショップでは、「絆」特別展をご覧になった後、灯ろうをつくって、館内に特設された「川」で灯ろう流しをします。
本イベントは日本とウェールズの絆を紹介する特別展の関連行事です。
午前11時から4時の間、いつでも
お越しください。
参加費は2ポンド。当日、ギフトショップにてお支払下さい。
What's On