What's On
Event

:

Lates: SPACE
18 July 2019,

6.45PM-11PM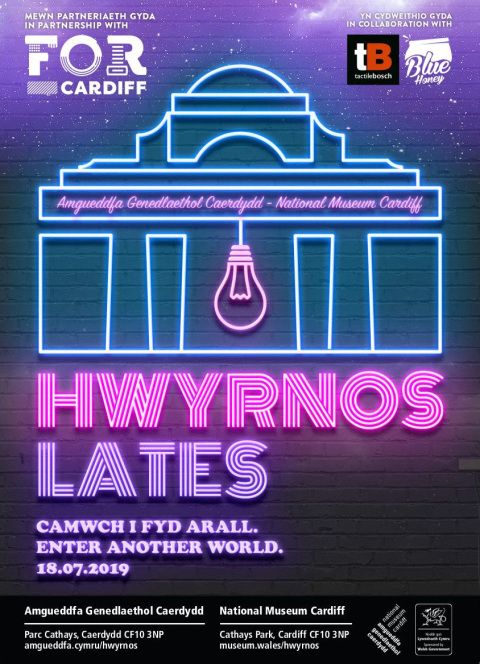 Welcome to Museum Lates: SPACE an event curated in collaboration with Tactile Bosch and Blue Honey and in partnership with FOR Cardiff, that blurs the lines between museums, art, club culture & learning.
For millennia, the cosmos has been the inspiration of artists, astronomers and visionaries. Throughout history, artists have contemplated and reflected on the human condition. And what greater contemplation is there than our existence on this singular planet, amidst an ever-expanding celestial unknown.
This ambitious large scale event will transform the museums vast space and hidden caverns into an immersive, galactic dreamscape.
Nestled among international DJs, video, performance, live music, dance, participatory art, and theatre will be 'stars' of the museum's own extra-terrestrial collections. These have been graciously loaned from the cosmos itself!
You are invited to immerse yourself in this brand new, creatively expressive event: Explore the imaginary of the museum at night, hold objects that have fallen from the skies, dance and chat the evening away.
Follow where Laika, Buzz, Neil, Svetlana and Tim explored and join us at Lates: SPACE on July 18!
Tickets: £23
This event is for age 18+
**LIMITED ADD-ON TICKETS**
Purchase your entry ticket but don't forget to check out our limited added value tickets before you complete your order!
The Dizzy Pineapple girls run a super sassy glitter bar to put the finishing touches to your look and get you ready to party. Expect glitter and gems in every colour of the rainbow and a selection of biodegradable options.
Pre-event discount: £3.50
Price on the door: £4
Behind the Scenes
Join us for an exclusive tour of the Museum's Art Collection and discover how artists have been inspired by the stars for centuries. You will see some of the country's most important art works in a new light and get unique access to some of the Museum's hidden spaces.
Price: £6
Advanced bookings only
Experience cutting edge Virtual Reality on the International Space Station SpaceWalk Experience!
Star down at the only Home we've ever known and try to repair the iconic ISS.
Try out the latest and greatest Premium VR Hardware, and change your perspective forever
Price: £5
Advanced bookings only
Some of our staff speak Welsh, some are learning and others speak English only. Keep an eye out for the Iaith Gwaith lanyards to see who's who. If you're learning Welsh, give it a go!
What's On