What's On
Event

:

Museum Sleepover: Dippy Dino Night!
National Museum Cardiff
Finished
16 November 2019,

5:30pm - 9am
Suitability
Children aged 6 to 12 | Families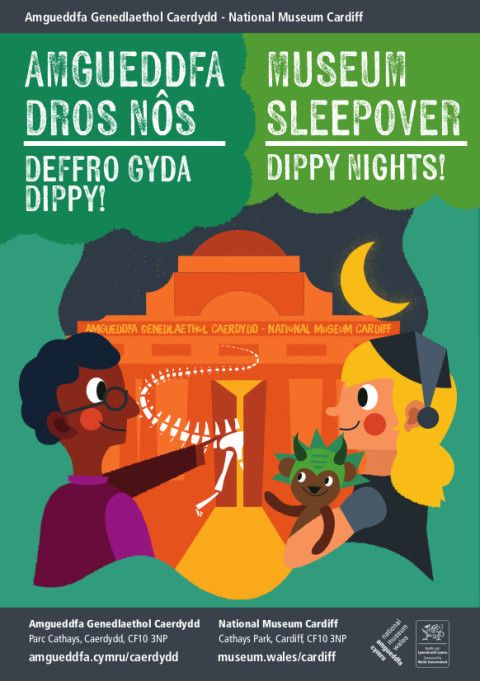 You're invited to a very special sleepover - discover what goes on after dark in an action packed night at the Museum – with special guest Dippy the Diplodocus!
Here's the plan:
Take a torch lit tour to explore Wales as it was 200 million years ago
Meet some friendly dinosaurs and watch their eggs hatch in a Dino-show to remember
Get creative in our craft workshops - you'll be inspired by fossils, footprints and bones from the Museum's collection
Enjoy a snack box and hot chocolate with a choice of special extras from our toppings station
Settle down for a film before bed in our grand theatre - then camp under the dome for dino dreams with Dippy.
Wake up bright and early for breakfast together and a chance to explore the Evolution of Wales gallery, before you head back to life in the 21st century.
___________________________________________________________________________
A typical Museum Sleepover event looks like this:
17:30 - Doors open and registration
18:15 - Doors close – no entry after this time
18:15 - Guests divided into groups and briefing by team leaders
18:30 - 21.15 - Activities, Snack box & Hot Chocolate
21.15 - Make your way to the Reardon Smith Theatre
21:30 - Film starts
23.20 - Film ends & return to Main Hall to set up camp
00:00 - Lights out
7:00 - Wake up
7:45 – Breakfast
8:00 – Evolution of Wales gallery opens
9:00 - Museum Sleepover finishes
The Museum reserves the right to make adjustments to the schedule and content if necessary to ensure a safe and fun event.
Important Information:
This event is suitable for children aged six to twelve. Children must be accompanied by an adult, at all times.
Advanced bookings are required. Tickets are non-refundable once the booking has been made. Tickets are not transferable. Compelling circumstance will be considered at the Event Manager's discretion.
Museum doors will open at 17:30 for welcome and registration. The event will start at 18:15 - entry will not be permitted after this time.
Please read the FAQs carefully before booking your tickets.
Our friendly and knowledgable staff will be leading the evening, some of whom speak Welsh, some are learning and others speak English only. Keep an eye out for the Iaith Gwaith logo if you want to know who's who. All of the materials supplied for the activities will be bilingual, and the film will be shown in its original language, which is English.
What's On