What's On
Event

:

The Mah Ensemble
National Museum Cardiff
Finished
Booking
www.seetickets.com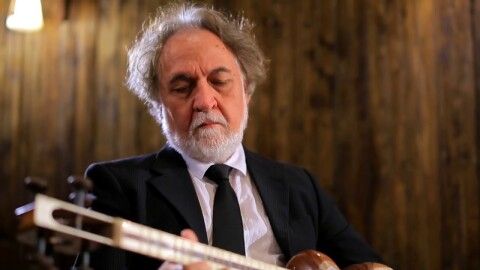 The Mah Ensemble are coming to Cardiff as part of their European Tour and performing in the Reardon Smith Theatre at National Museum Cardiff.

Featuring Majid Derakhshani (Tar / Composer), Sahar Zibaei (Vocal), Kooshan Yaghmaei (Tonbak), Mostafa Narimani (Daf), Mehrdad Nasehi (Kamancheh), Jamshid Safarzahed (Santour) & Amin Golestani (Oud)

This concert will be a celebration of Classic Persian & Kurdish Music in Cardiff, a rare insight into an otherwise disappearing art, and will bring the Welsh and Persian Cultural understanding together.
More information is available via Facebook.

Majid Derakhshani BIOGRAPHY

Majid Derakhshani (born 13/09/1957 in Sangesar, Iran) is an acclaimed Iranian musician.

He was born into a family of artists from the Iranian province Semnan. During his studies of string instruments and composition at the University of Tehran, the legendary Mohammad Reza Lotfi became his teacher.

Subsequent to his emigration to Germany he founded the Nawa Musikzentrum in Cologne; the primary and most active center for Persian classical music outside of Iran. In Iran, Majid Derakhshani is deemed to be amongst the best on his instrument – the tar. Hence he carries the venerable title Ostad, denoting him as a master of his instrument. His virtuosity has been celebrated worldwide in festivals, concerts, radio and television productions.

He has composed for myriads of international musicians, such as the greatly renowned Iranian singer Mohammad Reza Shajarian (Album Dar Khial). Majid's declared ambition is to familiarize western culture with Iranian classical music. He views himself as an ambassador of these magnificently mystical melodies which themselves lead dynamic lives of their own where change is certain and compulsory. Thus, a novel musical style developed, that spices oriental music with European elements. The subliminal magic of his harmonies enthrall unswervingly, enchanting people of all ages. Especially in a time replete with one-dimensional and superficial stimulation, this music may serve to enlighten us.
The Reardon Smith Lecture Theatre is accessed from the Park Place entrance. The south doors will be opened at 6.30pm.
What's On