What's On
Course

:

Introduction to the Marine World
23, 30 April, 7, 14 & 21 May 2020,

1pm - 4pm
Booking
www.eventbrite.co.uk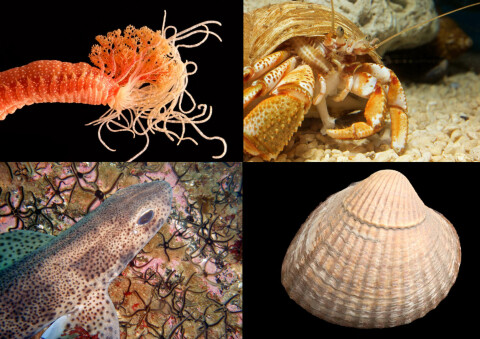 Are you fascinated by the sea? Or find rockpool creatures exciting? Then join four of our scientists for a series of five illustrated lectures exploring worms, shells, crabs and seaweeds over 5 weeks.
The lectures will provide an overview of the marine world and the animals and seaweeds you are likely to find on our local shores.
Each session will comprise of an illustrated talk with the opportunity to examine and handle specimens. There will be plenty of time to ask questions and discuss each week's topic.
No previous knowledge is needed - just an interest in finding out more about sea creatures, where they live and why they are important.
The proposed structure is provided below, although we reserve the right to alter the order of the talks.
Week 1 – An introduction to the marine world
Week 2 – The Wonderful World of Worms – why worms are so important to life in the sea
Week 3 – Shells and how to identify them
Week 4 – Crabs, starfish, anemones and others less well known
Week 5 - Seaweeds
This is a very special opportunity to see what goes on behind the scenes at Wales' National Museum and to learn from some of the top scientists in their field.
Tea and coffee will be provided. You are welcome to bring a packed lunch or visit our catering facilities.
Language: This course will be held in English but we are happy to provide simultaneous translation if you would like to take part in Welsh. Please choose a ticket in your language of choice, making sure you have one ticket for each person. Please book your tickets at least one week before the event.
What's On