What's On
Exhibition

:

The Mold Gold Cape
National Museum Cardiff
Finished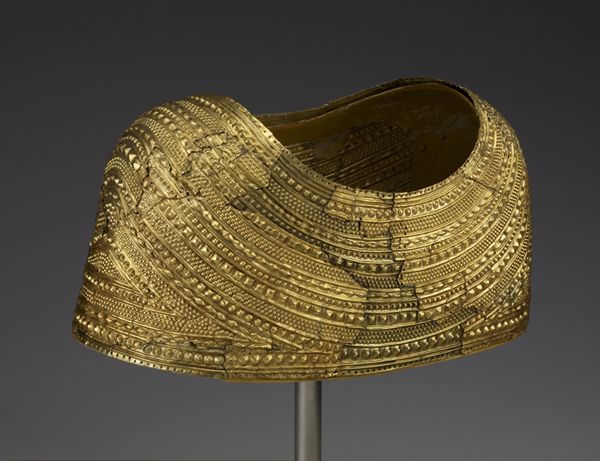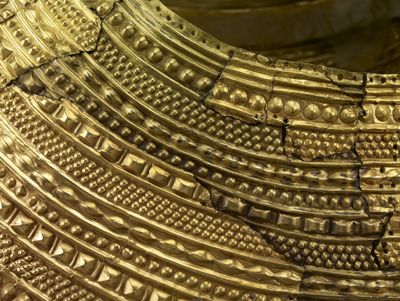 The Mold Cape is a unique ceremonial cape of gold, made during the Early Bronze Age, around 3,700 years ago.
The cape is regarded as one of the finest pieces of Bronze Age craftsmanship and gold-working technique in Europe. Skillfully fashioned from a single sheet of thin gold, it is unique in design, the embossed shapes copying strings of beads.
The cape also tells us of the wealth, influence and identity of the Early Bronze Age farming and metalworking communities who lived in north-east Wales.
The cape was discovered in Mold, Flintshire in 1833 by workmen while levelling a field and quarrying for stone. They uncovered a stone-lined grave with the remains of a skeleton and the crushed gold cape. This was probably at the centre of a circular mounded burial monument, known as a barrow.
Also in the grave were hundreds of amber beads, fragments of a second gold cape, a bronze knife and the fragile remains of woven textile. The discovery was brought to the attention of the wider antiquarian community largely through the efforts of the local vicar.
The British Museum, recognising its importance and significance – and at a time before a National Museum existed in Wales – devoted efforts in acquiring the cape, and a number of the accompanying fragments, for its collections.
The Mold Cape has for long been given prominence in the British Museum prehistory displays. After careful study and painstaking work piecing together all the embossed fragments, its original form as a cape was revealed and reconstructed.
Recent research has suggested that the wearer of the cape, amber bead necklace and bronze knife may have been a woman. In addition, fragments of a second gold cape were found in the grave, suggesting a longer regional tradition of cape making here.
This highlight exhibit will present new thinking and understanding of the cape and its wider significance. The interpretation will also place this rich grave within its cultural, burial and landscape context of the Early Bronze Age in north east Wales.
Normally a highlight exhibit at the British Museum, the Mold Cape is on display at the National Museum Cardiff, before opening at Wrexham County Borough Museum on 7th August 2013.
This is a Spotlight Tour loan and exhibit: a Partnership between Amgueddfa Cymru – National Museum Wales, the British Museum and Wrexham County Borough Museum, supported by the Art Fund.
The Mold Gold Cape was featured as one of the top ten treasures in the 100 objects in A History of the World in partnership with the BBC. The project was awarded The Art Fund Prize in 2011.
What's On