What's On
Exhibition

:

Efforts and Ideals: Prints of the First World War
National Museum Cardiff
Finished
2 August 2014 – 4 January 2015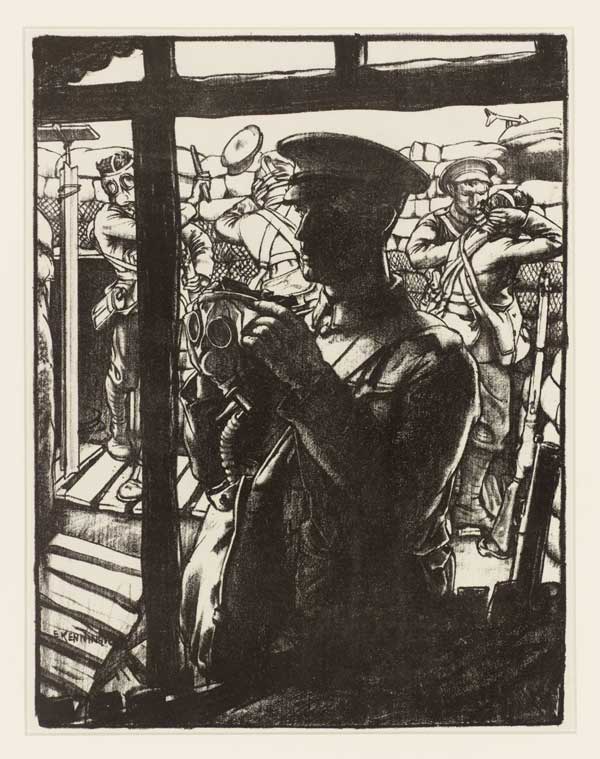 'The very soul of the war is to be read in the set of sixty-six brilliant lithographs.'
(The Illustrated London News, 1917)
By 1917, after three years of hard fighting in the First World War, unprecedented loss of life and increasing hardship at home, the British government were looking for ways of developing public support for the War and generating financial support. This exhibition presents the 66 lithographsfrom a print portfolio that was commissioned by Wellington House, a government department secretly set up to produce propaganda in 1917.
It was the most ambitious print project of the First World War. Eighteen artists contributed to the series, including some of the most celebrated artists of the time. They were published in an edition of 200 by the Fine Art Society and printed under the direction of Ernest Jackson, himself a contributor to the Ideals series.
The prints were to be displayed in galleries around Britain and abroad - in France, America and Canada and sold to raise funds for the war effort. Despite good press coverage, the print sales did not meet expectations and the government made a loss on the project as a whole.By showing this work together as a group once again, this exhibition reassesses their significance as images of First World War propaganda and with the passage of time, allows a new audience to view the entire suite of images.
The works are split in to two subjects, Ideals and Efforts. The Ideals express the aims and ambitions of the war through use of allegory and symbolism. Twelve artists, including Edmund Dulac, Augustus John and William Rothenstein, contributed to the Ideals series with subjects such as The Freedom of the Seas, The Reconstruction of Belgium and The Triumph of Democracy.
Nine artists, including Christopher Richard Wynne Nevinson, Eric Kennington, Muirhead Bone and Charles Pears made prints for the Efforts portfolios, each producing six images under a single theme such as Making Soldiers, Making Guns, Building Ships or Work on the Land. These prints offer a fascinating overview of many war activities, including the vital role that many women played.
Artistically the works are very different, reflecting the varying trends in British art at the time. Nevinson's prints are modern, linear and dramatic, Pears' images are detailed and naturalistic, whereas Rothenstein communicates his subject through simple, pared-down images.
This exhibition brings together the full set of lithographs for the first time on public display in Wales and is supported by a series of free talks, activities and events:
Related events and activities
What's On