What's On
Event

:

Classical Celtic: Wales and Scotland in Mediterranean Light
19

September

2014

,

10am-5pm
Booking
Book by emailing a.elias@cymru.ac.uk
A day-conference jointly organized by the University of Wales Centre for Advanced Welsh and Celtic Studies and Amgueddfa Cymru-National Museum Wales.
The day explores the nature of the domestic tour in Romantic-era Wales and Scotland (1760-1820). How far were tourists' perceptions of the British past in British landscapes influenced and informed by Classical models and their own experiences of Greece and Rome?
Experts from art history, archaeology, geology, literature and history will discuss the many aspects of tour-writing in this period, focusing on the work of Thomas Pennant of Downing (1726-98), a distant relation of Richard Wilson, whose tours in both countries effectively mapped out many of the routes, sights and responses of subsequent travellers.
Click here for the conference programme and click here for the poster.
This is a free event but we need to know numbers. Please register by 1 September by contacting a.elias@cymru.ac.uk.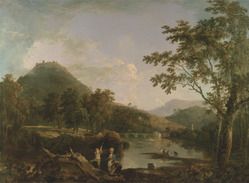 What's On