Celf ar y Cyd brings new artworks to Bay Field Hospital
In response to Covid-19, Amgueddfa Cymru has been working with Wales' Health Boards to introduce images from the national Art collection into hospitals and community health care settings across Wales.
The staff at Bay Field Hospital, Swansea, voted for this selection of artwork reproductions to brighten the exterior of the Mass Vaccination Centre. The work will be installed outside the Centre in September 2021, and will be gifted to the Health Board.
The final selection is an eclectic mix which broadly reflects images, themes, people and places with a connection to Swansea and its surrounding areas – from images of the south Wales valleys captured by pioneering documentary photographer David Hurn, to paintings by artists with a connection to the local area.
Amgueddfa Cymru's Art collection belongs to everyone in Wales, and we want to give as many people as possible the chance to view it, particularly during the current pandemic when in-person visits are difficult.
You can browse the final selection installed at Bay Field Hospital here.
The project is part of Celf ar y Cyd, a series of projects which aim to share art across Wales in response to the current health crisis. Celf ar y Cyd is a partnership between Amgueddfa Cymru and the Arts Council of Wales with support from the Welsh Government. Find us on Instagram @celfarycyd.
David Hurn (born 1934)
For the last 40 years photographer David Hurn has dedicated his time to documenting his native Wales in search for the meaning of Welsh 'culture'. This display of images offers a glimpse into Hurn's exploration of everyday life in areas including Swansea and the south Wales Valleys between the 1970s-1990s.
Thereza Mary Dillwyn Llewelyn (1834-1926)
The John Dillwyn Llewelyn Collection at Amgueddfa Cymru contains some of the earlist images ever taken in Wales. Various members of the family seem also to have been interested in photography. John's daughter Thereza took a number of the images, and we know that both Thereza and John's wife Emma also helped print some of his photographs.
Cedric Lockwood Morris (1889-1982)
The renowned painter and horticulturist Cedric Morris was born in Sketty, Swansea. His paintings of birds are among his most characterful and colourful works. Morris was deeply concerned with the natural world and, in his later career, drew attention to the effects of the bird population caused by pesticides used in farming.
Alfred Janes (1911-1999)
Alfred Janes's parents kept a fruit and flower shop in Swansea, and he trained at the School of Art there and at the Royal Academy Schools. He was a friend of Dylan Thomas, and one of the circle that frequented Swansea's Kardomah Café. This painting was painted in Coleherne Road in 1934 and was bought by the museum the following year. At this period Janes used the technique of making a linear incision in the surface with a pen-knife to give the painting a greater formality, and to bring the face into a sharper focus.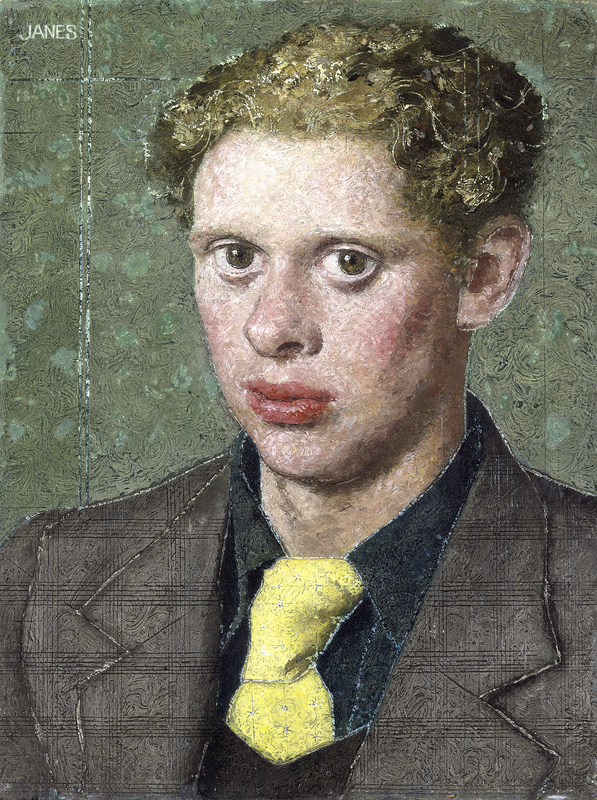 Josef Herman (1911-2000)
A refugee from Poland, Josef Herman spent the decade 1944-54 in Ystradgynlais where he created his best-known images of mining themes.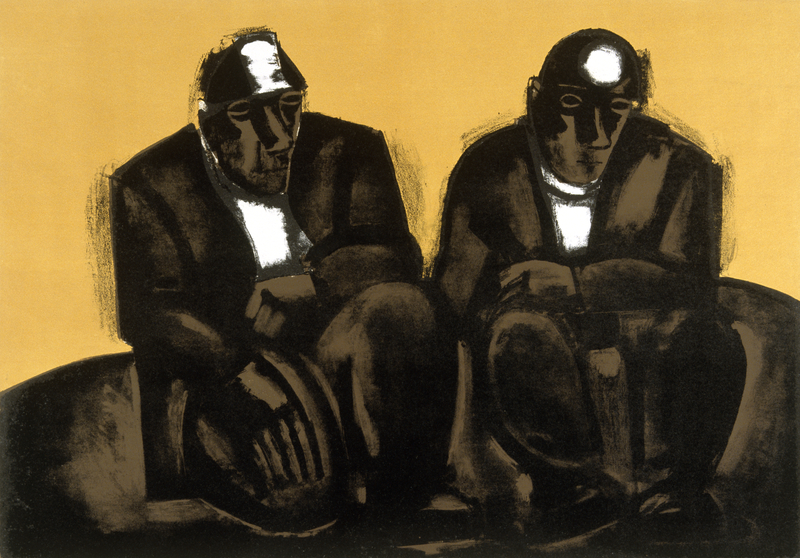 Alfred Sisley (1939-1899)
Alfred Sisley was the only major Impressionist artist to work in Wales, spending July to September 1897 in Penarth, near Cardiff, and Langland Bay, on the Gower Peninsula. These paintings of south Wales, which explore the effects of light and weather, are his only seascapes, and recall Monet's views of the Breton Coast. Sisley had married his long-term partner Eugénie Lescouzec during his stay in Penarth, and the visit to Langland Bay was their honeymoon, though both were in declining health. The Langland Bay pictures fall into two groups: firstly, views along the beach at Lady's Cove (now called Rotherslade Bay), overlooked by the Osborne Hotel, where he stayed; secondly, a number of paintings centred on Storr's Rock. He was fascinated by this enormous, isolated outcrop of rock close to the hotel and painted it at varying stages of the tide. This painting shows the north face of the rock at low tide on a sunny evening.