Welsh Fare
Welsh Fare Homepage
Loaf Cake
Dowlais, Merthyr Tydfil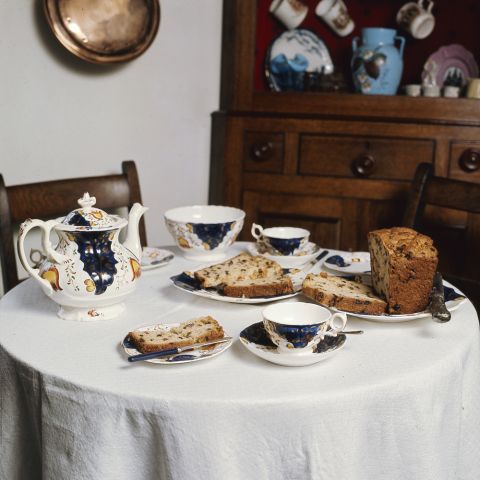 Loaf cake was synonymous with Christmas celebrations in the industrial valleys of south Wales. The dough, prepared in large quantities, would be carried to the local bakehouse where the baker would be responsible for baking the cakes for a penny or two per loaf. Neighbours were invited to taste each other's cake, and tradition has it (in the district of Margam, near Port Talbot) that if a young maid was given the opportunity to taste thirteen different cakes in one season she would marry before the following Christmas.
The Recipe
You will need
pound and a half plain flour
half a pound butter
quarter pound lard
one and a half cupfuls brown sugar
half a pound raisins
half a pound sultanas
half a pound currants
a little nutmeg and cinnamon
a little grated lemon peel
six eggs, well beaten
one and a half ounces yeast
a little salt
Method
Cream the yeast with a teaspoonful of sugar in a small basin.
Mix with a little warm water, cover and put in a warm place to prove.
Wash and dry the fruit, and quarter the raisins, if large.
Rub the butter and lard into the flour, add the fruit and other dry ingredients and work through the flour.
Make a well in the centre of this dry mixture and pour in the yeast.
Add the well-beaten eggs and work all together to make a moist dough. A little warm milk and water may be added if necessary.
Cover the dough and leave to rise in a warm place.
Then divide into equal parts and put in warm greased tins.
Leave to rise in the tins for a further hour, and then bake in a moderately hot oven for an hour, or longer according to the size of the loaves.
Dowlais, Glamorgan.